A Culinary Journey through Lithuania
Skanaus, Bon appétit
Lithuanians love to eat, a tradition inherited from their ancestors who said "He who eats well, works well."
Their cuisine is simple and lightly spiced, but full of flavor. Dishes are mostly centered around fish, soups, pork, potatoes, cabbage, beets and peas.
Lithuanian cooking has retained the influences of neighboring countries over the centuries. A good example is the "kugelis" potato cake that Lithuanians adopted from German cuisine.
Lithuania has five separate regions, each with distinctive culinary traditions.
The mountain dwellers or "Aukataiciai" live in the northeastern region of the country, an area renowned for its pancakes and cheese dishes.
Samogitians or "Zemaiciai" in the northwestern region are known for their porridges, oatmeal and sour butter
In the southwestern region, covered with vast forests and sandy soil, the Dzukai grow buckwheat, mushrooms and potatoes.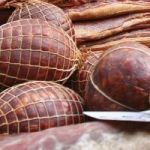 Suvalkieciai, the residents of southwestern Lithuania, prefer smoked meats, dried hams, smoked sausages (dešra) and the famous sausage known as skilandis: a pig's stomach stuffed with minced meat, cold-smoked and matured for some time.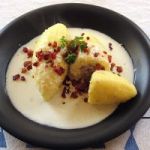 Didžkukuliai, more often known as cepelinai, are probably the most popular Lithuanian dish. They are dumplings made from grated raw potato filled with meat. They get their name from their distinctive Zeppelin-shape. While now thought of as a traditional dish, potatoes were not brought to Lithuania until the 17th century and only became widely used for food at the beginning of 19th century.
Cepelinai are usually served with sour cream, spirgai (kugelis) or mushrooms.
For Lithuanians living along lakes and rivers, fish plays an important role in their diet.
Balandėliai - stuffed cabbage
Balandėliai ("little doves") are made from cabbage leaves stuffed with a minced meat, rice and onion filling. They can be served with sour cream or tomato sauce. Note: since rice is not grown in Lithuania, pearl barley was used instead in traditional recipes.
Bulviniai blynai - potato pancakes
They are one of the many Lithuanian dishes made from potatoes. They are usually served with sour cream, sometimes with mushrooms.
Duona - bread
It is probably the oldest traditional Lithuanian food, which has been at the center of Lithuanian cuisine for hundreds of years. It played a role in various agrarian rituals and still is sometimes used in wedding ceremonies. Bread was shown great respect and viewed as holy.
Lithuanian dark rye bread is delicious, heavy, fragrant and can remain fresh for a long time. It can be eaten for breakfast, lunch or dinner. However, it isn't as popular now as it was in the old days.
Šaltibarščiai - cold borscht
This is a popular summer soup. It's made from cooked shredded beets, cucumber, dill and green onions. All the vegetables are put into a pot and cold soured milk or kefir is added. Šaltibarščiai are usually served with hot boiled or fried potatoes on the side. Sometimes a sliced hard-boiled egg is added into the plate as well.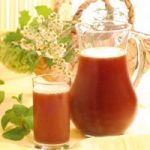 From time immemorial, gira (kvass in Russia) has been produced in Eastern Europe. The first Lithuanian recipes for gira date back to the 16th century. It is a fermented drink made from black rye bread. It is considered a non-alcoholic drink but contains some alcohol (0.05-1.5%) due to the natural fermentation process. Gira has a unique flavor, contains a lot of vitamin B and is a great drink for a hot day.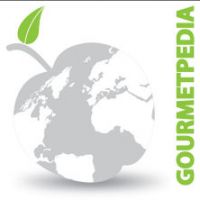 ©Copyright MSCOMM 1996 – 2023. Michèle Serre, Éditeur
Recipes

Products

Entertaining

Chefs

Hints & Tips

Glossaries