Flavors of new caledonian cuisine
With the collaboration of Anne Ronchin
Nouvelle Calédonie Tourisme Point Sud
The richness and diversity of New Caledonian cuisine stems from the mix of peoples preparing it. However there is no specific New Caledonian gastronomy.
New Caledonian products and the ways in which they are prepared are many and varied, ranging from the customary "bougna" to Tahitian "tamara'a", Indonesian "bami" and Japanese "sashimi.".
Venison, fruit bat, "notou," escargots (snails), crab, crayfish, fish, manioc, coconut milk and tropical fruit are some of the ingredients found in New Caledonian cuisine.
All tastes are catered to: food is braised in the Melanesian style, steamed for Asians, served with sauces for European dishes or presented raw in the Tahitian manner.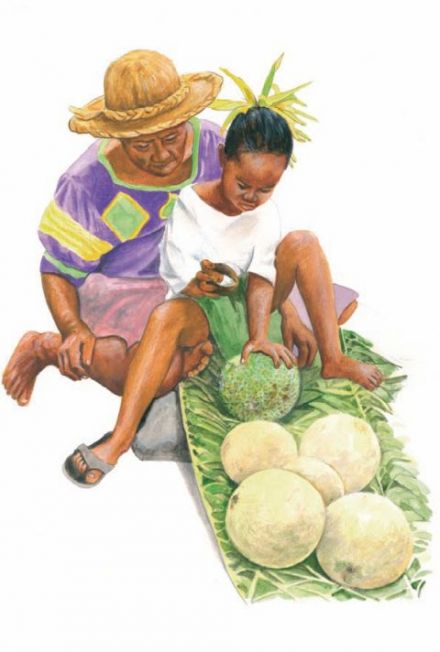 Venison is a favorite dish on the Mainland. There are many ways of preparing this meat: in a stew, on skewers, in salads or as a ragoût.
New Caledonian beef is of high quality. It is worth noting that because of New Caledonia's isolation, and due to its very strict biosecurity laws, our territory is free of all sorts of diseases such as foot and mouth disease, bovinal plague and mad cow disease.
"Notous" are large birds ressembling wild pigeons. They are a protected species and hunting them is authorized only on weekends in the month of April. Consequently it is quite rare to be able to sample them.
The "roussette" is the New Caledonian version of the bat. Its wingspan can exceed one metre. It is hunted in the mountain areas and prepared as a ragoût, providing a dish of which both Europeans and tribal peoples are very fond.
The Isle of Pines snail, also known as the "bulime" is an endemic land snail which is considered a delicacy. They are traditionally collected and cooked in soups, bougna and "à la bourguignonne.".
Mangrove or coconut crabs are crustaceans which can be found on many New Caledonian menus. The former are usually stuffed or served with a vinaigrette and the latter served quite simply with a mayonnaise.
"Le ver de bancoule" or bancoule worm is a white worm 6 to 7 cm long and 1.5 cm in diameter. It is a speciality of the commune of Farino (West Coast) which organizes an annual market in its honor on the first Sunday in September. Raw or grilled, courageous fans seem to relish this somewhat original delicacy.
Yam: This is a staple food for the Melanesians. Yams are respected as a human being and a symbol of man. They are given as gifts and exchanged in traditional ceremonies. This is the Kanaks' main food. It is served boiled, fried or cooked in hot stone ovens. It is very nourishing and packed with vitamins.
Taro: Taro comes in two varieties. The giant taro (Alocasia macrorrhiza), which can be eaten after being cooked for a very long time in a hot stone oven, and the water taro (Colocasia esculenta), whose roots and leaves contain mineral salts with excellent healthful properties.
Sweet potatoes and curry form the basis of many local cuisine dishes. Being yellow in color and slightly sweet, they are delicious and add color to a dish.
Coconut: Coconuts are widely used in New Caledonian cuisine as they form the basis of Melanesian and Tahitian cuisine. Coconut milk is used to make savory dishes such as bougna, poés," curry and, raw fish salads, while grated coconut is used in pastry and dessert-making to prepare many kinds of sweets and cakes.
Banana: For Melanesians the banana tree symbolizes the woman as it produces fruit just as the woman gives birth. Eaten raw or cooked, bananas are always a favorite food.
Coffee was introduced to the island in 1874 by Governor Feillet who brought over some settlers to cultivate the crop. Today, New Caledonia is steering towards the production of speciality coffees such as the arabica variety known as Leroy, Kouilou on the west coast and robusta on the east coast.
Because New Caledonia is surrounded by the largest lagoon in the world, there is a wide variety of seafood. There is something for everyone, from fish and shellfish to crabs and crayfish.
Crayfish is a highly sought-after delicacy. Served in mayonnaise, as sashimi, grilled or in a salad, crayfish can be sampled in many different ways.
There is a great variety of fish in New Caledonian waters. Raw or cooked, the consumer has the choice between fish such as dawas, rougets, picots, and parrotfish.
The prawn produced in New Caledonia is a top-quality prawn of the Stylirostris type, or the blue prawn with its excellent flavor.
The freshwater crayfish is starting to make its appearance on New Caledonian tables. It is produced in the Boulouparis region.
On the savory side, venison sausage, terrines, pâtés, "achards de trocas," bamboo, lemons and vegetables will delight lovers of fine food.
On the sweet side, papaya jams, guava or liana apple jellies, "corossol" cordial and fruit pâtes make farm produce a sheer pleasure to the taste.
The "Bienvenue à la ferme" (Welcome to the farm) association was launched at the beginning of 2000. It was set up by some farmers and cattle rearers who wanted to join forces to promote farm products and the idea of welcoming tourists to New Caledonia in a rural setting.
It enables visitors to experience another side of New Caledonia. The products and activities are very varied but most of the farms are involved in gastronomy. Farmer/hosts provide traditional meals using regional recipes and produce, from venison sausage, jellies, guava and jams to foie gras, achards, cordials, cheeses and coffee.
Various agricultural fairs are organized each year, such as the famous Bourail fair, the venison and prawn festival in Boulouparis and the beef festival in Païta, where visitors can admire the animals, see a rodeo and, of course, sample and buy local produce.
In Nouméa, the market is held daily at the Baie de la Moselle in a colorful folk atmosphere. Freshly-caught fish and crustaceans line the stalls. Peppers, bouquets of flowers and fresh vegetables sit alongside tropical fruits: succulent papaya with its yellow or red flesh, "sabot" mangoes, soursop, liana apples, green coconuts which can be sampled on the spot, custard apples… all taking place within a pleasant hubbub.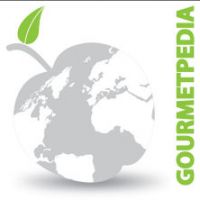 ©Copyright MSCOMM 1996 – 2022. Michèle Serre, Éditeur
Recipes

Products

Entertaining

Chefs

Hints & Tips

Glossaries