A Culinary Journey in Argentina
When we think of Argentina, our mind immediately travels to the pampas, conjuring up images of the huge herds of cattle that produce some of the world's best beef. Cattle raising is carried out intensively here: in this ocean of grass and vast fields of wheat, corn, sunflowers and alfalfa, these noble bovines can graze to their heart's content before eventually ending up under the gaucho's fork. Beef is popular throughout Argentina in all its form, including:
Bife de lomo (very thick tender fillet)
Bife de chorizo (very popular in Argentina: sirloin cooked in its own fat)
cooked over the coals and served with the traditional "achuras" (offal)
But Gauchos prefer it as a mixed grill with Parilladas or Asados - cooked over the coals you'll find tenderloin, rib steak, sausage, chorizo, veal sweetbreads - served in enormous portions accompanied by chimichurri, an Argentinian condiment made with 22 different spices.
But on the Patagonian coast, livestock raising is centered more around sheep and lamb. However, Argentinians are fond of more than just ranch-raised meat. They also enjoy fish and game. Remember that Argentina is a country of former immigrants who came in large part from Europe; the culinary traditions of their countries of origin have been adapted and amalgamated into Argentina's cuisine.
Let's cross the country to discover a few specialties:
Northwest
This is the region of Argentina where the food is most "indigenous," influenced by the traditions of the native Indians, and often quite spicy. Some of their tasty specialties:
Pastel de choclo - a dish of very tender corn and meat (beef or chicken) cooked in a large dish and browned on top.
Empanadas filled with cheese or meat and often flavored with chilies (ajies), corn and onions.
Quinoa soup
Sheep's milk cheeses
Chayote Jam (made from a local fruit)
Don't forget to try Chicha (a fermented cornmeal beverage made in terra cotta pots) that the Indians love. But be forewarned: it can give you a nasty headache the next morning!
The Tropical North
In this region the culture and traditions of Brazil, Paraguay and Argentina meet.
Zebu (Ox) Steaks
Grilled or Baked Fish (Mahi Mahi, Suribi, Pacù)…
Mbeyù, a fried tapioca flour flat bread of the Guarani Indians, eaten with milk, salt and cheese
And when it comes to liquor, there is Caña or Cachaça, made from sugar cane
Pampa
Besides the region's famous beef, lamb and rabbit are also common ingredients in local dishes:
Rabbit in Red Wine
Lamb Roasted over the Coals
Charcuterie
Sheep's Milk Cheese
Cordoba Macaroons (cream-filled double cookies covered with chocolate or vanilla)
The Andes
Mendoza and San Juan are best known as regions of wine production (both red and white). Argentinian wine is of excellent quality and is a perfect accompaniment to the local cuisine.
Almost 70% of Argentina's wine comes from this region, with an annual production of 10 million hectolitres.
The Mendoza region is the biggest wine-producing area in Latin America, and includes 1221 properties, some of which are among the largest producers in the world.
The principal varietals include Cabernet Sauvignon, Malbec, Merlot, Chardonnay, Chenin, Ugni Blanc and Riesling. To accompany your wine-tastings, here are a few specialties from the Andes:
Veal roasted over the coals
Soups
Goat's cheese
Fruit tarts (peach, apricot)
Numerous locally-grown vegetables (asparagus, peppers, tomatoes)
Pastel de Choclo
Pastel de Papas
Locro (an Argentinian corn-based cassoulet)
Patagonia and Terra del Fuego
The main sheep-producing region
Stuffed Shoulder of Mutton
Roast Mutton
Northeast
Empañadas
Tamales
Humita and Locro - corn-based dishes
Carbonada - squash stuffed with meat and vegetables
This is also a region renowned for its fish and seafood, eaten all along the Atlantic coast.
Don't miss trying the galettes in the Puerto Madryn and Gaiman regions and the many fruit jellies.
Did you know that Argentina consumes almost as much beef as the United States? Keep in mind that the population of Argentina is only about 34 million, compared to 230 million in the US!
Buen apetito from the land of the gauchos!
Maté, a traditional Gaucho drink, is an infusion of Hierba de Maté, grown mainly in the Corrientes and Misiones regions, and is drunk hot or cold with pipettes, usually silver-tipped, from a calabash or ornate silver maté vessel.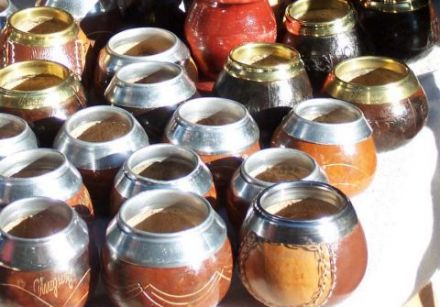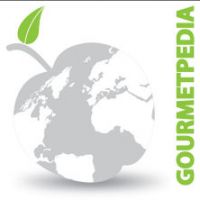 ©Copyright MSCOMM 1996 – 2022. Michèle Serre, Éditeur
Recipes

Products

Entertaining

Chefs

Hints & Tips

Glossaries