A culinary tour to Malaysia
Malaysian cuisine is, like the country itself, culturally rich and diverse. Drawing from Malay, Chinese and Indian ethnicities, there are no shortage of flavours colliding in the nation's cooking. While Penang is famous for its street-food-selling hawkers, the whole country is full of amazing dishes that you just have to add to your foodie bucket list. Here are 10 of the best dishes that you need to try.
Malaysian top 10 favourite dishes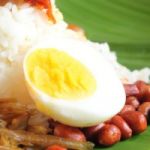 Nasi Lemak
Nasi Lemak is Malaysia's national dish. The name of the dish translates to "creamy rice." It is a fragrant, coconut infused rice dish traditionally served with sambal (a spicy paste), fried anchovies, cucumber slices, and hard-boiled eggs packaged in a banana leaf.
Frequently referred to as the national dish of Malaysia, Nasi Lemak can be consumed at breakfast, lunch or dinner. Its name, which in Malaysian literally means 'oily or fatty rice', is taken in this context to mean 'rich' or 'creamy', and refers to the cooking process. To make the dish, rice is soaked in coconut cream and then steamed with a pandan leaves, to provide a delicious aromatic flavour. This is then wrapped in banana leaf and served with cucumbers, roasted peanuts, hard boiled egg, and fried anchovies in shrimp paste and chili sauce.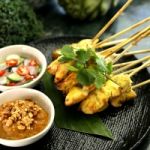 Satay
Satay is simple – chunks of meat (chicken, beef or lamb) marinated with a blend of local spices, skewered and lightly grilled to perfection. You can eat it alone, or dip it into either the spicy nut sauce or sambal (or even both) for an extra kick, but however way you choose to enjoy it the juiciness of the meat will have you clamouring for more.
In Malaysia, you will notice the towering piles of skewers and the recognisable aroma of satay everywhere – at hawker stalls and pasar malam (night markets) these skewers are tossed onto the grill and made to order. Across Southeast Asia, each country has its own unique recipe for satay. Malaysian satay is made with common ingredients from Malaysian cooking, like shallots, turmeric powder, coriander powder and lemongrass.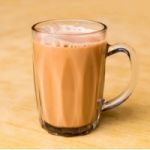 Teh Tarik
'Teh tarik' literally translates to 'pulled tea' is a Malaysian Ceylon milk tea specialty. The preparation is fun as it is made by transferring the tea from one mug into another lifting it as high as possible to create foam. The art of making Teh tarik has became so popular that in recent years, a number of competitions were held to find the best participant who could prepare it in the most exciting way.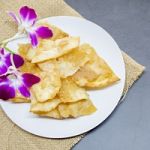 Roti Canai
A common meal to have for breakfast, roti canai is a flatbread that is first twirled and then grilled, and is usually served with curry and dhal for dipping. Because of its popularity, roti canai has a lot of varieties, and depending on which mamak stall you go to, you can order roti telur (roti canai with an egg inside it) or have it with bananas, aka roti pisang. The possibilities are endless, which makes it a timeless favourite.
The Malay word 'roti' means bread, and this must-try dish is an Indian-style flatbread. Traditionally, it is eaten at breakfast, and served with dhal (lentil) curry or mixed sambal (chilli sauce). If you get a chance, try to watch someone making roti. They will slap and smack the ingredients, toss and swirl it in the air repeatedly, then fold and heat it, putting on a show that is almost as good as the eating that follows.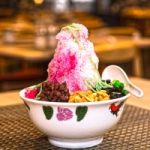 Air Batu Campur (ABC)
Ais Kacang is commonly known as 'ABC', which stands for Air Batu Campur. Traditionally, this Malaysian dessert is made from shaved ice and red beans, but today it comes in bright colours and with all kinds of fruit and dressings, such as palm seed, sweet corn, jelly cubes, cendol, peanuts and ice cream. It is then topped with evaporated and condensed milk and coconut milk, red rose syrup and sarsi syrup are drizzled over the ice.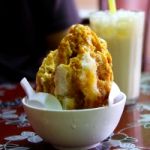 Cendol
Under the hot sweltering sun of Kuala Lumpur, the traditional dessert cendol looks tempting. Cendol is the green worm-like jelly made of rice flour, and combined with shaved ice, palm sugar and red beans, and is usually sold along the streets, so hunt for a stall when you're walking about in the city, and opt for this amazingly simple cure for the heat.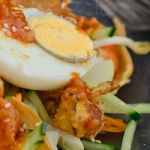 Passembor
Pasembur is a popular Penang hawker food usually eaten as a side dish for lunch or dinner. It comprises shredded cucumber, Chinese turnip, potatoes, bean curd, bean sprout, prawn fritters, flour-batter fritters, and sliced boiled egg. Some stalls also garnish it with poached jellyfish. The whole salad dish is then covered in a spicy sauce made from sweet potato.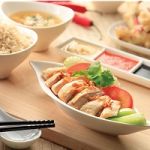 Hainanese Chicken rice
This dish originated in Hainan, but has been adapted to suit the Malaysian taste. Essentially chicken boiled in stock and rice also cooked in chicken stock, Malaysians have added chilli to the ginger and garlic dipping sauce that accompanies this dish.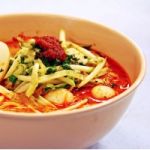 Laksa
There are countless variations of laksa in Malaysia, but there are two major categories: Assam Laksa and Curry Laksa. Assam Laksa is considered as one of Penang's main dishes, and is generally cooked with a white flakey fish. The broth is tart and tamarind-based, and filled with noodles, cucumber, pineapple, fresh mint, lemongrass and ginger. This dish has such an alluring combination of salty, spicy and sweet, that you're sure to be hooked as soon as you try it.
Curry laksa is filled with coconut and rempah to make a rich broth. Made with turmeric, ginger, lemongrass, chilies and belacan, the broth is filled with noodles and topped with shrimp, tofu, cucumber, fish balls, and eggs.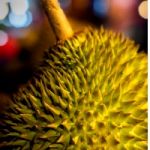 Fruits
Durian is called the 'king of fruits' by locals and mangosteen is known as its consort and queen. The seasonal fruits include ramboutan, duku and cibu. Papaya, watermelon and grapefruit are available all-year round. Jackfruit and banana are very often transformed in delicious donuts.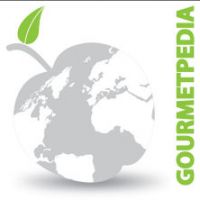 ©Copyright MSCOMM 1996 – 2022. Michèle Serre, Éditeur
Recipes

Products

Entertaining

Chefs

Hints & Tips

Glossaries