A Culinary Journey through Scotland
Scottish Breakfast
There's no more invigorating way to start the day than with a typical Scottish breakfast, which is offered in many hotels and bed and breakfasts. It consists of bacon, eggs and sausage and may include typically Scottish additions such as black pudding (blood sausage) or potato scones. And since you're in Scotland, there has to be oatmeal: porridge is simply oatmeal cooked in water with a pinch of salt, served with milk or cream and perhaps a little sugar. Smoked fish is also traditional breakfast fare: you'll find kippers (smoked haddock) or the less strongly flavored Arbroath smokies (haddock). In the north of Scotland you might be served "buttery," a brioche-style bread related to the French croissant.
Desserts and sweets
Scots are famous for their sweet tooth, and cakes and desserts are an important part of Scottish food. The main street of every Scottish town has a bakery or two displaying sticky buns and cream cakes. When it comes to home baking, scones, buttery shortbread and the Scottish version of fudge (called "tablet") are favorites. Clootie dumpling is a steamed suet pudding made with spices and dried fruit, served hot with custard. Cranachan or cream crowdie is a dessert of toasted oatmeal, whisky, whipped cream and fresh raspberries. Its relative, Atholl Brose, is a recipe dating back to the 15th century, made with oatmeal, honey and whisky. In the summertime, fresh berries feature prominently in many desserts.
An enduring Scottish tradition is high tea, which in times past was the working man's evening meal. It includes a hot dish and a variety of scones or cakes, accompanied by many cups of hot tea, and is usually served between 5 and 6:30 p.m.
Other traditional dishes
A number of famous Scottish dishes are versions of meat pie: the much-loved steak pie consists of steak and onions in gravy under a pastry crust; the Scotch pie is sold in every butcher shop and is a cylindrical pastry case with a ground meat filling; while the Forfar bridie from the town of the same name is a ground meat and onion turnover. Stovies is a favorite dish usually made with the leftovers of the Sunday dinner: chopped roast meat cooked in a pan with onion and potato. On a blustery winter day, hot soups are much appreciated: Scotch broth is made with mutton, vegetables and barley. Cullen skink is a rich soup containing smoked haddock, potatoes and cream, while the centuries-old Cock-a-leekie is a comforting chicken and leek soup, that in ancient versions also contained prunes.
Scotland is renowned worldwide for many fine products. Scottish salmon, fresh or smoked, is considered second to none. Scottish Aberdeen Angus beef is prized by connoisseurs, as is Scottish lamb. Grouse and game have always been celebrated products, particularly in the Highlands and on country estates. And of course no discussion of Scotland would be complete without a mention of its famous whisky, produced according to strict regulations in hundreds of distilleries across Scotland.
A Culinary Journey through Scotland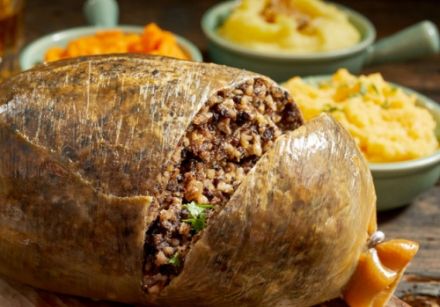 The quintessential Scots dish is haggis, which Scotland's bard, Robert Burns, famously addressed as the "great chieftain o' the puddin' race." It is perhaps best described as a kind of sausage, with chopped or ground liver and offal (usually from a sheep) mixed with oatmeal, onion and spices and boiled in a sheep's stomach. Though it is perhaps the food most associated with Scotland, you'll find it more often on tourist-oriented menus than in Scottish homes, though it is a centerpiece of Burns suppers on January 25, a celebration of the poet's birthday. Its traditional accompaniments are "bashed neeps" (mashed turnips) and "chappit tatties" (mashed potatoes). The humble haggis has taken on a new sophistication lately, with all sorts of designer versions appearing in trendy restaurants.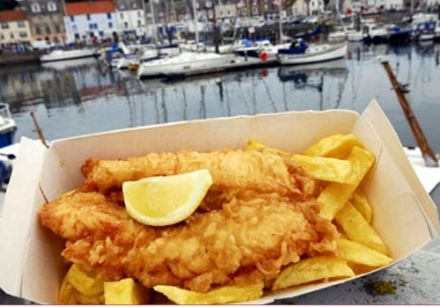 Though England may come to mind at the mention of fish and chips, this dish is just as popular in Scotland where the neighborhood fish shops are referred to as "chippies." Not surprisingly the best "fish suppers" are usually found near the coast where the fish comes in fresh off the fishing boats.
..........
Photos : Fish & chips (Anstruther Fish Bar)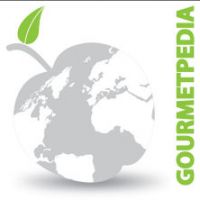 ©Copyright MSCOMM 1996 – 2022. Michèle Serre, Éditeur
Recipes

Products

Entertaining

Chefs

Hints & Tips

Glossaries