With seven hundred islands covering over 250,000 square kilometers, the Bahamas form an archipelago that tourist brochures unanimously label a paradise: tropical floral landscapes, lagoons and colonial-style towns with pretty wooden houses in every pastel shade… The ever-present sea provides fresh fish and shellfish, staple foods for every Bahamian family which are prepared into dishes deliciously accented with chilies, island spices and coconut oil.
Seafood is at the centre of the Bahamian diet.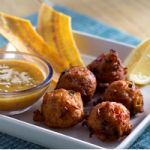 Conch (pronounced "konk") is a large ocean mollusk with firm, white, peach-fringed meat. Fresh, uncooked conch is delicious; the meat is scored with a knife, and lime juice and spices are sprinkled over it. It can also be deep-fried (called "cracked conch"), steamed, added to soups, salads and stews or made into conch chowder and conch fritters. The Bahamian "rock lobster" is a spiny variety without claws that is served broiled, minced or used in salads. Other delicacies include boiled or baked land crabs which can be seen, before they are cooked, running across the roads after dark.
Fresh fish also plays a major role in the cooking of The Islands of The Bahamas -- a popular brunch is boiled fish served with grits, and when done right, is often the most flavorful way to enjoy the taste of a fresh catch. Stew fish, made with celery, onions, tomatoes and various spices, is another local specialty.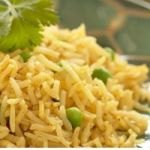 Many dishes are accompanied by pigeon peas and rice cooked with spices, tomatoes and onions. This is the Bahamian take on the famous peas 'n' rice served throughout the Caribbean. The dish known in Cuba as Moros y Cristianos (Moors and Christians), a mixture of white rice and black beans, is also very popular in the Bahamas. It's a bit like potatoes in North America: a theme on which every cook creates numerous variations.
Peas 'n' Rice
A staple vegetable dish of the first Bahamians. Today it is a cornerstone of the islands' diet and includes onions, celery, tomatoes, rice and pigeon peas, all perfectly spiced.
Peas also figure prominently in the wide array of fragrant Bahamian soups -- pea soup with dumplings and salt beef, and the familiar split pea and ham soup are just two of the many pea-based broths. One soup unique to the Caribbean and Bahamas is souse (pronounced "sowse") -- the only ingredients are water, onions, lime juice, celery, peppers and meat; no thickeners are added. The meat added to a souse is often chicken, sheep's tongue, oxtail or pigs' feet -- giving the souse a delicious, rich flavor, new to many visitors.

The cuisine of The Islands of The Bahamas is never bland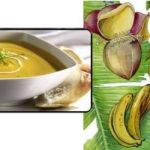 Spicy, subtly and uniquely flavored with local meats and produce, Bahamian cooking has been influenced by the American South more than any other cuisine in the West Indies. One very popular example of this influence is the "fish 'n' grits" mentioned above.
Plantains are another side dish typical of the region. Curried plantain soup is delicious.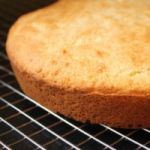 When it comes to dessert, Johnny cake is a favorite, a substantial, nutmeg-flavored variation on pound cake. Its name derives from "journey cake," since it was the only food taken along by early settlers when they headed out to sea to fish. Also try guava duff, a guava pudding with a rum, butter and guava sauce.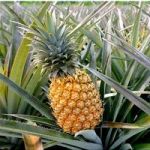 What better excuse than a trip to the islands to get your fill of really fresh sun-ripened fruits that will amaze you with the variety of their exotic flavors: the Abaco tomato, guava, coconut, mango, passion fruit, jujube, sapodilla… The star of the Bahamas is the small sweet Eleuthera pineapple. Every year a festival is held in its honor.
Sampling the cuisine of the Bahamas means being seduced by Caribbean cuisine with a touch of South America. It's delightful to sample local dishes in the little food joints housed in shacks near the beach.
A few not-to-be-missed libations: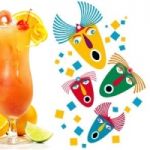 Both alcoholic and non-alcoholic drinks are a highly developed specialty in The Islands; bars pride themselves on their own special concoctions of rum punch.
The local liqueur, Nassau Royal, is usually served on its own or in coffee.
Gombay Smash
Rum, coconut rum, Galliano, pineapple and orange juice
Bahama Mama
Rum and coconut rum, lime, orange and pineapple juice, grenadine
Junkanoo Punch
Enjoyed during the festival of the same name
Fruit Punch
A refreshing non-alcoholic drink
Yellow Bird
White rum, brandy, banana liqueur, orange juice
Kalik, the beer of The Islands Of The Bahamas, is unusually light and wheaty, served well-chilled to counter the day's heat.
The Bahamian refresher of choice is coconut water (not the heavier, fattier coconut milk) blended with sweet milk and gin. There is also a drink called Switcher, made with native limes; those who have had it swear that it tastes better than any other citrus drink.
..........
Top Photo: Waiter in the garden of the Graycliff Hotel
Conch fritters : Bahama Breeze Island Grille
Johnny cake : Nassau Paradise Island Promotion Board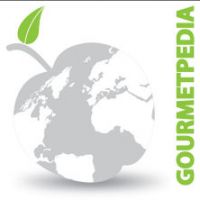 ©Copyright MSCOMM 1996 – 2022. Michèle Serre, Éditeur
Recipes

Products

Entertaining

Chefs

Hints & Tips

Glossaries