A culinary journey to Tunisia
In this history-filled country, a crossroads of many civilizations (Roman, Carthaginian, Arab, Turkish and French), Tunisian cuisine evolved and developed into an art. Rich in color, delicate and fresh, it is a reflection of successive cultural influences (Berber, Arab, Jewish, Turkish, Italian, etc.), the regional climate and the country's geography, and thus of its local products: wheat (in the form of bread, noodles or couscous), olives and olive oil, meat (particularly mutton, beef, chicken and other poultry), fruits and vegetables, and fish and seafood, especially along the coast.
At once Mediterranean, African and Eastern, this rich and elaborate cuisine offers many specialties that vary by region (north, south, coastal, oasis, etc.) and by ethnic group (Berber, Jewish or Arab). The cooking of the cities is, however, more sophisticated and diverse than that of the country, particularly when it comes to pastries.
In the Tunis Medina, a number of palaces have been restored and turned into high-end gourmet restaurants. However, in the more popular restaurants, you can sample inexpensive and delicious dishes like brick pastry with egg, couscous, and especially the succulent Fricassé sandwich, a perfect filling snack. The dish of the day will cost only 2-3 dinars.
The Great South is made up of a mosaic of green oases, attractive chotts, sand dunes, camel caravans and Berber villages. Capital of the "jerid," the gate to the desert, Tozeur has more than 200,000 trees, irrigated by 200 springs, which give the city its characteristic profile. But Tozeur's reputation is primarily gastronomical, because it is here that the country's best dates, "Deglet Nour," are harvested. When fresh they are almost transparent and you can see the pit. They have natural flavors of aged rum, vanilla and orange blossom.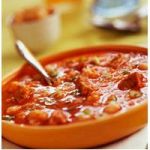 chakchouka: a spicy stew of onions, chilis, tomatoes and soft-cooked eggs
jelbana: tomato sauce containing peas and meat or chicken
kamounia: a stew of beef and liver in a thick cumin-flavored sauce
mloukhiya: a stew accompanied by a sauce made with dried molokhia (Jew's mallow) leaves
marqua: a tomato-based stew served with various meats and vegetables as well as olives and raisins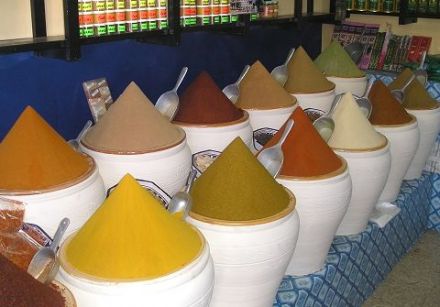 A true traditional art, Tunisian cooking is highly inventive, combining mutton or fish with assorted vegetables and flavoring them with coriander, caraway, anise or cumin - not to mention lemon, olive oil and the famous harissa, which are used in numerous dishes. Visit the Gabès spice market to breathe in all the wonderful aromas. In this maritime oasis stretching out into the Gulf of Syrta, carriage rides are particularly pleasant, enchanting you from the souk to the market.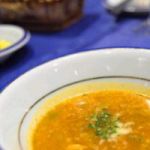 Brick: a kind of fried pancake filled with egg, tuna, meat or seafood.
Chorba, a soup made with vegetables and lamb.
Chorba frik: a barley soup that can be a meal in intself.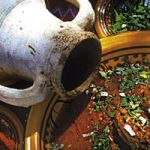 Mechouia: grilled tomato and pepper salad
A wide variety of tagines (a kind of chicken, meat and vegetable-based soufflé.)
Ojja, a vegetable stew made with tomatoes, harissa and eggs, served with merguez sausage.
Lamb "à la gargoulette," cooked in an earthenware pitcher that is ceremonially broken in front of you.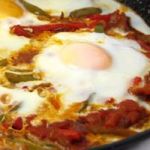 The famous Tunisian fricassés and sandwiches
Lablabi: pieces of bread dipped into a very hot chickpea broth, to which oil, harissa, salt, cumin and a raw egg are added at the end and cooked in front of you.
Fricassé: a fried bun containing tuna, potatoes, olives, eggs, harissa and olive oil.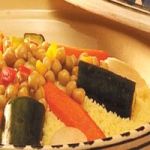 and, of course, the national dish: couscous, which takes in an impressive range of dishes, made with lamb, chicken or fish, and even sweet versions that include dates and raisins.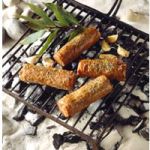 It is rare to find a week without mechouia on the beach or under the tent.
A fish menu? There is no shortage of variety when it comes to fresh fish, often prepared with tomatoes and peppers. And to enliven its flavor, spices such as harissa, saffron, coriander, anise or cinnamon.
And the sweet, sweet desserts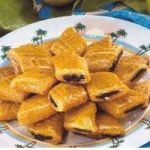 Makroud: a semolina cake studded with dates
Pastries: baklava, acidas, kaac, mlabess, ghraiba, zrigua... flavored with orange flower or rose water and made with almonds, pistachios, hazelnuts, pinenuts and honey.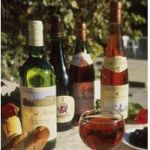 All washed down with the heady local red, white or rosé wines: Thibar, Mornag, Koudiat, Magon, Lansarine, Sidi Saad, etc.
Begin your meal with a glass of boukha, a fig-based gin, and end with a thibarine, a delicious date liqueur.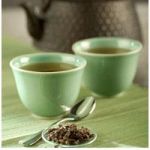 There's nothing more refreshing than a glass of strong mint tea or pine nut tea
lemonade: a cold, sweet and thirst-quenching drink of lemon and sugar
orgeat syrup: a drink made with sweet and bitter almonds
legmi: juice made from palm sap
and, if you're in the south, palm milk, drunk very cold.
..........
Photo of spices: Neyla Chehimi (with thanks for her proofreading work to make our dossier as accurate as possible).
Small photos 5, 6, 8, 9: Sunny Tunisia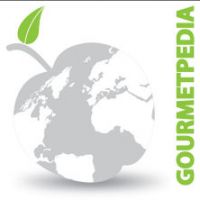 ©Copyright MSCOMM 1996 – 2022. Michèle Serre, Éditeur
Recipes

Products

Entertaining

Chefs

Hints & Tips

Glossaries