Flavors of Puerto Rico > Puerto rican cuisine, a fusion of cultures and continents
Rich History Enhances Flavor of Island's Culinary Delights
A fusion of European, Afro-Caribbean and Latin American cultures has produced one of the most palate-tempting cuisines throughout the western hemisphere. Although Puerto Rican cooking is somewhat similar to both Spanish and Latin American cuisine, it has a unique style, using such indigenous seasonings and ingredients such as coriander, papaya, cacao, níspero, apio, plantain, cassava and yampee.
Cocina Criolla (Créole cooking) can be traced back to the Arawaks and Taínos, the original inhabitants of the island, who thrived on a diet of corn, tropical fruit, and seafood. With the arrival of the Spanish in 1493, other ingredients such as beef, pork, rice, wheat and olive oil were incorporated into the native diet.
The Spanish soon began planting sugar cane and importing slaves from Africa, who brought with them okra and taro, known in Puerto Rico as yautía. The mingling of flavors and ingredients passed from generation to generation among the different groups that passed through and settled on the island, resulting in the exotic blend of -today's Puerto Rican cuisine.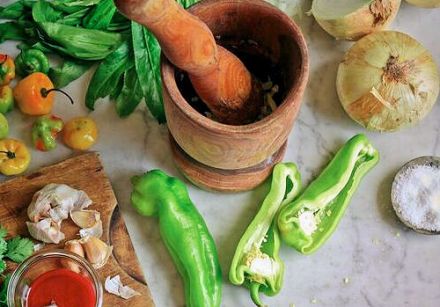 The aroma that wafts from kitchens throughout Puerto Rico comes from adobo and sofrito – blends of herbs and spices that give many of the native foods their distinctive taste and color. Adobo, made by crushing together peppercorns, oregano, garlic, salt, olive oil and lime juice or vinegar, is rubbed into meats before they are roasted. Sofrito, a potpourri of onions, garlic and peppers browned in either olive oil or lard and colored with achiote (annatto seeds), imparts the bright yellow color to the island's rice, soups and stews.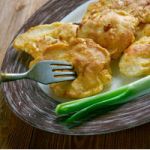 Lunch and dinner generally begin with sizzling hot appetizers such as bacalaitos (crunchy cod fritters), surullitos (sweet cornmeal fingers) or empañadillas (crescent-shaped turnovers filled with lobster, crab, conch or beef). Soups also are a popular beginning and diners have many choices: sopón de pollo con arroz (chicken soup with rice), which tastes differently across the island's regions, sopón de pescado (fish soup), which is prepared with the head and tail intact, or sopón de garbanzos con patas de cerdo (chickpea soup with pig's feet), which is made with pumpkin, chorizo (Spanish sausage), salt pork, chile peppers, cabbage, potatoes, tomatoes and fresh cilantro.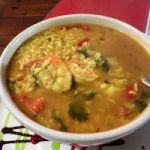 Not really a soup, the most traditional Puerto Rican dish is asopao, a hearty gumbo made with either chicken or shellfish – and every chef has his or her own recipe. One well-known and lowbudget version is asopao de gandules (pigeon peas). Another is asopao de pollo (chicken), which takes a whole chicken flavored with oregano, garlic and paprika, and adds it to a rich gumbo of salt pork, cured ham, green peppers, chile peppers, onions, cilantro, olives, tomatoes, chorizo and pimientos.
Stews, which are usually cooked in heavy kettles called calderas, loom large in the Puerto Rican diet. A popular one is carne guisada puertorriqueña (Puerto Rican beef stew). The ingredients that flavor the beef vary but might include green peppers, sweet chile peppers, onions, garlic, cilantro, potatoes, pimento-stuffed olives, capers and even seeded raisins.
Pastelón de carne, or meat pie filled with salt pork, ham and spices, is a staple of many Puerto Rican dinners. Other typical dishes include carne frita con cebolla (fried beefsteak with onions), ternera a la parmesana (veal parmesan) and roast leg of pork, fresh ham, lamb or veal, which are prepared Créole style and flavored with adobo. Exotic fare, such as Cabrito en Fricasé (Goat Meat Fricasse,) Carne Mechada (Larded Pork or Beef Loin with Chorizo Sausage,) Cuajito and Mollejas Guisadas (stews popular during Christmas season), are also enjoyed by locals.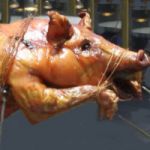 A festive island dish is lechón asado (barbecued pig), a recipe dating back to the Taino Indians, which is usually cooked for a party of 12 to 15. It is traditional for picnics and outdoor parties. The pig is basted with jugo de naranja agria (sour orange juice) and achiote coloring. Green plantains are peeled and roasted over hot stones, then served as a side dish. The traditional dressing served with the pig is aji-li-mojili, a sour garlic sauce consisting of garlic, whole black peppercorns and sweet seeded chile peppers, flavored further with vinegar, lime juice, salt and olive oil.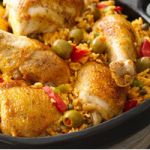 Chicken is a Puerto Rican staple, arroz con pollo (chicken with rice) being the most common dish. Other preparations include pollo al Jérez (chicken in sherry), pollo agridulce (sweet-andsour chicken) and pollitos asados a la parrilla (broiled chicken). However, most visitors to the island prefer the fresh fish and shellfish. A popular dish is mojo isleño, fried fish in a typical sauce of olives, olive oil, onions, pimientos, capers, tomato sauce, vinegar, garlic and bay leaves.
Puerto Ricans often cook camarones en cerveza (shrimp in beer) or jueyes hervidos (boiled crab).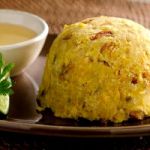 Rice and plantains are staples of the Puerto Rican diet and, prepared in dozens of ways, accompany nearly every meal. Rice (arroz) is simmered slowly with sofrito and generally served with habichuelas (beans) or gandules (pigeon peas). Another typical rice specialty is pegao, which is rice that is prepared so that it sticks to the bottom of the pan and gets crispy. Plantains also are served in many forms. Amarillos are ripe plantains fried with sugar to enhance their sweetness. Green plantains are either mashed into discs and deep fried to make tostones or mashed into balls of mofongo and mixed with pork or seafood and spices.
No matter what part of the island, Puerto Rico cuisine offers a treasure of culinary flavors. Through its food, one can see the influences that created a fusion of cuisine, long before "fusion" was mainstream.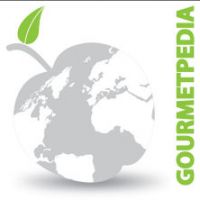 ©Copyright MSCOMM 1996 – 2023. Michèle Serre, Éditeur
Recipes

Products

Entertaining

Chefs

Hints & Tips

Glossaries