It's no secret to anybody: Poutine Week is just around the corner! It's happening February 1-7 in numerous restaurants in Montreal and elsewhere in Quebec, as well as in Ottawa, Toronto, Winnipeg, Edmonton and Regina.
The original poutine recipe is just three ingredients: crispy fries, fresh curd cheese and good gravy. It came about in the 1960s, invented not by a chef but by a customer who always ordered his fries with cheese curds. One day, someone had the bright idea to ladle on some sauce, something restaurants of the time always had at hand: brown gravy for hot chicken sandwiches and barbecue sauce for chicken. The ménage à trois was born.
Over the years, poutine has expanded to include some strange pairings. During Poutine Week, chefs vie to outdo themselves in creativity and boldness to the great delight of their fans. There are poutines for every taste, with braised beef, chicken, shredded duck, beef cheek.... And as Poutine Week continues to sweep across the land like a tidal wave, pubs, brew houses and sports bars, as well as some ethnic restaurants have joined the fray and adapted poutine to their own cultural traditions. La Belle Tonkinoise and Bulma Bar give it an Asian twist, while Taverna F plays off Portuguese flavors.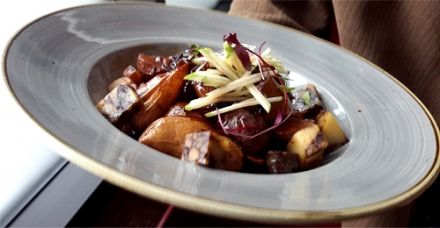 Bleu Parisienne Poutine is the work of Émile Tran, a cook at Montreal's Sheraton Centre for the past 3 years, who won over judges'* hearts (and stomachs) by presenting a poutine inspired by the flavors of Paris, his hometown, and Quebec, his adopted land. By combining the flavors of both cultures, Émile offers the best of both worlds, a poutine with hearty flavors, pleasing textures and smooth refinement.
Imagine little fingerling blue and white potatoes to double down on taste and texture, first steamed, then halved lengthwise and fried, slices of grilled boar and blueberry sausage, cubes of Guinness cheddar melting in a complex dark ale sauce made with veal stock, honey and balsamic-caramelized onions to balance the beer's bitterness, all crowned with green apple sticks for crunch: a decadent, surprising and original combination!
It's a pure delight - even if you don't like poutine, set aside your preconceptions. Poutine can be a gastronomic treat and you should come sample it. Don't forget a little spoon to finish up your sauce - it's a sin to waste it!
..........
*The Sheraton Centre had launched an in-house contest featuring six teams and a jury, Master Chef-style. Émile Tran had already won Burger Week last year - a chef to keep an eye on!
Photos above: Taverna F (top left), Hachoir (bottom left), Taboo (bottom right)
Photo of Photo Bleu Parisienne: MSCOMM
To see the list of participating restaurants, click here (accessible starting January 31). Poutine lovers can also vote for their favorites, and at the end of the week, one poutine per category and region will be crowned the best.
For its 7th edition, Poutine Week is partnering with Anorexia and Bulemia Quebec (ANEB). Eating shouldn't have to be complicated, either for persons with eating disorders or for us. It should be balanced, and a pleasure. This year for every poutine sold, $1 will be donated to ANEB.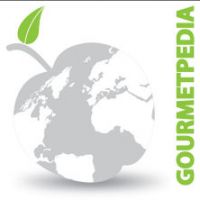 ©Copyright MSCOMM 1996 – 2022. Michèle Serre, Éditeur
Recipes

Products

Entertaining

Chefs

Hints & Tips

Glossaries