Cranberries with Daniel Vézina
| | |
| --- | --- |
| | Daniel Vézina, le Laurie Raphaël, Québec / Montréal |
All about cranberry... with Daniel Vézina
I've always been impressed by the cranberry harvest, when the fields are flooded and these little red jewels, detached from their branches, float to the surface.
Ah, cranberries ! They're a blessing for us men who are always worrying about our prostates! Cranberries have been used for a long time to prevent and treat urinary infections. And in our land of ice and snow and insufficient sunlight, they're filled with vitamin C. You can find organic cranberries on the market, but this little fruit is so synonymous with natural health that it isn't really necessary to look for the organic label to obtain their nutritional advantages.
I love using them in vinaigrette, compote, sauce… even in frozen nougat. Cranberries are used sparingly. People often say that my cuisine is quite "feminine," a subtle style of cooking. You have to have a sense of proportion and know how to balance the flavors. When you make a sauce or dressing, learn to taste: proceed one small step at a time and add more based on what your taste buds tell you.
Warm vinaigrette for roast quail
Sauté a minced shallot in a spoonful of butter with 1 tbsp. chopped dried cranberries and 2 tbsp. chopped fresh cranberries.
Deglaze with 65 ml (1/4 cup) cider vinegar and 185 ml (3/4 cup) grape seed oil.
Bring to a brief simmer; season with salt and pepper.
Cranberry emulsion for foie gras
To enhance foie gras that has been simply seared, or to dress young salad greens.
Cook 125 ml (1/2 cup) fresh cranberries in a syrup (185 ml /3/4 cup water to 65 ml / 1/4 cup sugar); reduce to a purée (125 ml / 1/2 cup).
Emulsify this mixture in the blender with 60 ml (1/4 cup) raspberry vinegar, 95 ml (6 tbsp.) grape seed oil and 95 ml (6 tbsp.) walnut oil.
Crumble to accompany foie gras
I like to combine local flavors that are found nowhere else. They create a very Québécois signature. At my restaurant, Laurie Raphaël, I place seared foie gras on this cranberry crumble. I add a little sauce made from lingonberries and pine or cedar jelly in duck stock. And as a surprise, I accompany it all with a shooter of spruce beer to really provide a mouthful of Canadian flavors. Notice to tourists: total immersion guaranteed!
Make the crumble: combine 250 g (8 oz.) oatmeal with 250 g (8 oz.) butter; mix well with a fork.
Spread half of the mixture into a dish; cover with a layer of cranberry purée (see the purée above; add a pinch of salt) and a second layer of crumble.
Bake until crisp. Cut into squares.
Cranberry and Port sauce to accompany caribou
Do you want to explore more of cranberry's versatility? I use the berries to make a thick rich sauce to accompany my "caribou rolls" – a thin slice of caribou covered with strips of foie gras, rolled up, sliced and sautéed.
First make the cranberry compote by cooking 65 ml (1/4 cup) cranberries with 2 tbsp. honey and 2 tbsp. water.
In a large saucepan, sauté 2 tbsp. minced shallot in a little butter; add 2 tbsp. raspberry vinegar, 125 ml (1/2 cup) Port, 125 ml (1/2 cup) red wine and 80 ml (1/3 cup) orange juice; reduce by half.
Add 250 ml (1 cup) caribou stock and the cranberry compote. Reduce again until thickened enough to coat a spoon.
***** CODE PUB = PUB_F *****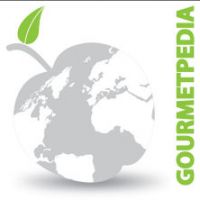 ©Copyright MSCOMM 1996 – 2022. Michèle Serre, Éditeur
Recipes

Products

Entertaining

Chefs

Hints & Tips

Glossaries