Party time : Tranform Charcuteries into Tapas
All about charcuterie > Tranform Charcuteries into Tapas
Tapas Party
While entertaining at home has become increasingly popular lately, meals are becoming less formal. The rediscovery of small portions has caused a revolution, bringing about a unique style of cooking with its own culinary philosophy. Even the greatest chefs have jumped on the bandwagon. These mini portions aren't associated with any one dish in particular, but represent a spontaneous and relaxed style of entertaining that offers guests a wide selection of foods. Furthermore, they offer greater freedom and creativity to the cook, and are perfectly suited to the modern lifestyle. A tapas party is always festive and lets your guests interact as they discover a range of new flavors.
The word tapas comes from the Spanish tapar, meaning "to cork." Originally in Andalusia tapas were little slices of bread set atop glasses to keep flies from getting in. Gradually a few slices of charcuterie, vegetables and cheese were also added.
Charcuterie is a French word referring to all kinds of cooked and cured meat (particularly pork) products, such as ham, pâtés, terrines, sausages, and so on. You can transform any kind of charcuterie into tapas - just give your imagination free rein! The art of small portions isn't about snacking; on the contrary, it's a perfect way to create a meal for your guests!
The ABCs of Making Tapas with Charcuterie
Always have a few slices of cooked or dried ham, pâté, sausage, etc. on hand in your refrigerator since the best parties are often the spur-of-the-moment ones.
Make the tapas a feast for both the eyes and the taste buds. Use a variety of presentations (dice, matchstick, chiffonade, etc.) to make the products attractive. Varying the thickness and the way the food is sliced can give a different taste to an ingredient.
Be attentive to recipes and presentation: the basic principle is to make the food simple yet elegant.
Let your imagination go wild: cold white bean soup with shaved dried ham served in a glass, rillettes or pâté on sautéed apple wedges, mini brochettes of rosemary and sesame chipolatas (little pork sausages), a small jar of Greek yogurt with bacon and cucumber… And don't neglect other less-common charcuterie specialties, since above all tapas should surprise!
To maintain the element of surprise over the course of the evening, take the tapas out of the fridge only as needed - this way everything stays fresh and cool as well.
Tapas for lovers, ladies' night out, a birthday, a children's party, a regional theme…. Any idea is possible: follow your whim! Choose a theme: exotic, a color, a season: these are just a few suggestions among many.
For lovers
For a romantic evening, tapas are the perfect way to travel the world: baguette slices topped with dried ham and tomato, olive oil and shaved cheese; cocktail sausages wrapped in puff, brick or phyllo pastry; or a few thin slices of chorizo with a little omelet.
Ladies' night out
Women love tapas parties - it doesn't require anyone to spend hours in the kitchen, you can sample everything since the portions are tiny, and by pairing meats with fruits and vegetables you have a balanced meal. Why not try some little puff pastries with dried ham, roasted tomatoes with chevre, or rillettes on endive leaves?
For children
There are even tapas for the younger ones, and children love their playful quality. Preparing a quick balanced dinner for your children is certainly possible: little ham roll-ups cooked with fresh cheese, mini slices of bacon loaf, tiny stuffed vegetables, dates with bacon, little brochettes of dried ham and pineapple. It's also a great opportunity to introduce them to foods they're not familiar with!
While the flavor and originality of the recipes are the main consideration, presentation is also very important. Here are a few tips:
Vary the containers: use small plates, bowls, glasses, skewers, Japanese-style spoons, saucers, etc. for originality and aesthetic appeal.
Have a number of buffet tables so that people can move from one to another.
Preparation and Serving Tips for Mini Quiches, Pâtés and Sausages in Pastry
Preparation time: 10 minutes
Cooking time: 6 minutes
For 6 servings
12 mini frankfurters
12 slices of mini pâté in pastry
24 mini quiches
50 g (2 oz.) lean smoked bacon, cut into small cubes
3 nice stems of cherry tomatoes (about 12)
Puff pastry
1 egg yolk
2 tbsp. balsamic vinegar
1 tsp. fleur de sel (fine sea salt)
Place the stems of cherry tomatoes in a baking dish, sprinkle with the balsamic vinegar and fleur de sel.
Bake in a 210°C. (425°F.) for 20 minutes; halfway through the cooking time place the mini-quiches into the oven as well.
Remove the cherry tomatoes from their stems using scissors and place the cooked tomatoes on the slices of mini pâté in pastry.
Heat a non-stick skillet over high heat and add the bacon cubes; cook for a few minutes until nicely colored on all sides. Place a few cubes of bacon on each mini quiche.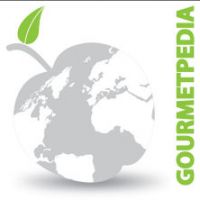 ©Copyright MSCOMM 1996 – 2020. Michèle Serre, Éditeur
Recipes

Products

Entertaining

Chefs

Hints & Tips

Glossaries