Easter in Poland
For hundreds of years in Poland, people have been celebrating the arrival of Lent by making Paczki (pronounced "paunch-key"). These delicious, jelly-filled doughnuts are made from the finest ingredients and are covered with several types of sugar or glaze. For Fat Tuesday (Ostatki), the day before Ash Wednesday, the bakers make paczki because they are going to fast for 40 days and they want to use up the ingredients.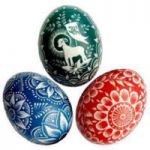 Between Palm Sunday and Easter Sunday, it is a tradition to decorate eggs. Simple colored eggs are just cooked in beet or spinach juice or with onion peels, depending on the desired color. They're called "kraszanki." When much more elaborately and artistically decorated, they become "pisanki."
Holy Saturday is set aside for the blessing of the decorated Easter eggs and the food that will be served on Easter Sunday. All these foods are placed into wicker baskets (Święconka) and brought to the church. They generally include hardboiled eggs, preserved meats and sausages, bread, salt and horseradish (preferably homemade - it's an essential part of the occasion.) Lamb or rabbit is represented by a little plastic or sugar animal.
On Easter Sunday morning, the family gathers around the table with the filled basket and the first spring flowers placed in the center. They exchange greetings and share the food.
Every region and family have their own culinary traditions but the place of pride is always given to eggs, prepared in various ways.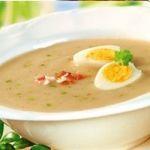 One of the essentials of the Easter table is white borsch, a soup also called zurek, made with fermented rye flour and served with smoked bacon and hardboiled eggs.
Also included are various meats such as pork stuffed with apples, homemade cured meats, Polish sausages and pâtés. Everything is accompanied with cold sauces, such as creamed horseradish, tartar sauce or cwikla, a beet and horseradish relish.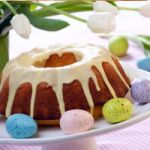 At the end of the meal of course come desserts. Among the most traditional are baba (babka wielkanoca), a yeast-leavened brioche studded with lemon zest and raisins, or Pascha, a kind of unbaked cheesecake garnished with candied fruit. Delicious!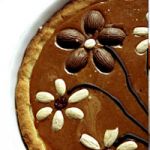 To this list, we must also add mazurek, a pie made with chocolate, condensed milk or rose jam in a pastry shell, lavishly decorated with dried fruits, candied peel or slivered almonds arranged in the shape of flowers or heads of wheat. Mazurek is so sweet that it is served in very tiny slivers.
On Easter Monday (Śmigus-Dyngus), also popularly called "wet Monday," everyone throws water on the heads of their nearest and dearest, as well as on passers-by. This ancient custom is rooted in pagan practice and symbolizes the rebirth of spring and the earth's ability to renew itself. Even today in the country, you can see farmers sprinkling their fields with holy water so that their seeds will sprout quickly.
And don't forget to say Happy Easter in Polish: Wesołych Świąt Wielkiej Nocy!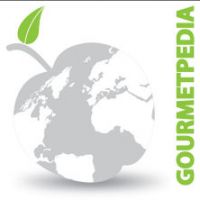 ©Copyright MSCOMM 1996 – 2022. Michèle Serre, Éditeur
Recipes

Products

Entertaining

Chefs

Hints & Tips

Glossaries