Flavors of China > Guangdong cuisine > A Culinary Tour of Hong Kong
The dizzying array of Chinese regional cooking to be found in this vibrant city makes Hong Kong a mecca for food lovers. The doorway to continental China, Hong Kong offers foods from every province of the country, all deliciously different. Fans of spicy cooking can heat up their taste buds with Szechuan specialties. Others may prefer the milder Chiu Chow cuisine, particularly celebrated for its seafood. Crispy Peking duck, accompanied by plum sauce and crisp spring onions is a dish impossible to resist. Beggar's chicken, wrapped in lotus leaves and clay before being cooked, is another favourite dish. Every regional Chinese cuisine is represented here, a whole spectrum of flavours from Chiu Chow, Hunan, Peking, Szechuan, Shanghai, Taiwan and even from the Hakka people.
To get an authentic taste of the real Hong Kong without wearing yourself out, go for dim sum. Faced with this delicious array of tasty morsels, buns, dumplings, tarts, soups and other delicacies, you are limited only by your appetite.
The Cooking of Southeast Asia
Ideally situated at the crossroads of Asia, Hong Kong has been touched by many important culinary influences which it has embraced and made its own. All the main currents of Asian gastronomy are represented here: Indian, Thai, Indonesian, Korean, Japanese, Vietnamese, as well as the cuisines of Singapore, Myanmar, the Philippines, Sri Lanka and Malaysia. There are so many things to tempt you that you may well have to devote an entire trip just to comparing various styles of curry or to deciding which cuisine's fried noodles are the tastiest!
The Tastes of the Seasons
There is not a single season in which Hong Kong - the "city of life" - does not have some special seasonal delight to offer. You can be sure to have your gourmet desires satisfied at any given moment of the year.
Spring Seafood Surprises (March to May) - During this time traditional seafood dishes are featured, including some with a distinctive Hong Kong flair: abalone, shark's fin, or grouper. You may also wish to acquaint yourself with some dried seafood delicacies, vaunted for their nutritional properties, such as scallops, oysters, squid, shrimp or seaweed.
Summer Greenery (June to August) - You won't find the kinds of green vegetables common in the west, but you will find juicy slices of green melon, cool, delicious and more refreshing than any beverage on a scorching summer day. Among the other culinary delights at their peak during the summer months are mushrooms and tofu.
Fall Crab Festival (September to November)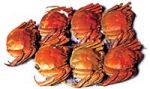 A whole range of varieties of crabs vie for the food lover's attention during these months: green crabs, giant crabs, little soft-shelled crabs… as well as hairy crabs. These freshwater shellfish, a specialty of Shanghai, are steamed and enjoyed in soups or salads, as appetizers and hors-d'oeuvres, and are a staple on both Chinese and western-style menus throughout the autumn.
Hot Dishes to Ward Off the Winter Chill (December to February)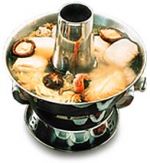 Chase away the winter cold with a steaming bowl of a traditional snake soup or stew, famous winter tonics. Or take over the cooking duties yourself with a hot pot: choose the ingredients and simmer them yourself in a pot of meat stock and vegetables. This is the perfect season for invigorating restorative dishes, like swallow's nest, snake, turtle, staghead fungus and ginseng.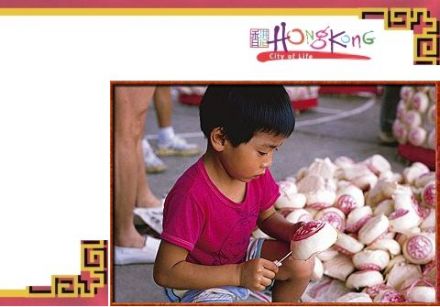 Thirteen kilometres from Hong Kong, the tiny island of Cheung Chou long played a central role in this region's trade. However the arrival of the British over 150 years ago dealt a blow to Cheung Chou. At the time the island had a population of almost 70,000 inhabitants; today it has only half that number. Despite the loss of its former importance as a commercial centre, Cheung Chou still boasts one of the biggest and most colourful festivals in the territory: the Bun Festival. The island's economy is still dominated by fishing and every April or May, the residents host a week-long celebration in honour of Pak Tai, the Emperor of the North who reigns over the ocean depths. Before the new fishing season opens, the villagers build three 16-metre tall bamboo towers and cover them with thousands of steamed buns. The population of Hong Kong is invited over for six days of religious ceremonies, opera and town parades. After the famished gods and spirits have been sated, those in attendance share the leftovers from the divine banquet and inaugurate a new year with wishes for peace, abundant fishing and full bellies: a period of plenty that will last, it is hoped, until the next bun festival.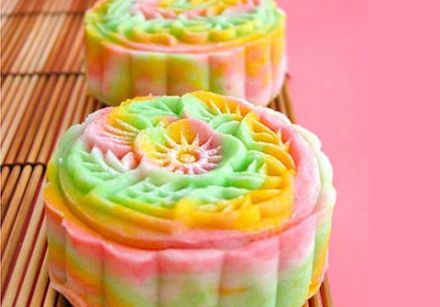 The moon festival, a cousin of the harvest festivals of western countries, is the backdrop for one of the most magical nights of the year. The festival commemorates the people's revolt against the Mongols. Legend has it that the call to revolt was distributed to all compatriots on a thin piece of paper, rolled up and slipped into a cake.
That is why during the festival it is traditional to bake "Moon Cakes" made of ground lotus and sesame. Stores sell animal-shaped lanterns and whole families seek out the highest points on the island to wait for the fall full moon to appear. At that moment, the lanterns are illuminated everywhere around, and the moon cakes are eaten.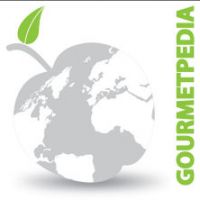 ©Copyright MSCOMM 1996 – 2023. Michèle Serre, Éditeur
Recipes

Products

Entertaining

Chefs

Hints & Tips

Glossaries