Flavors of Yorkshire - More than just pudding!
Yorkshire is a region rich in tourist attractions: breathtakingly beautiful countryside, enchanting towns, a dizzying coastline and endless historic sites. Any journey through Yorkshire takes you from the lovely English countryside of the Dales with their timeless green hills and valleys, dotted with quaint traditional villages, to the uncanny solitude of the Moors, and to the great textile, mining and steel centres, like Halifax, Hebden Bridge and Huddersfield, that were the birthplace of Britain's - and the world's - Industrial Revolution. It travels from the humble neighborliness of back-to-back terraced houses to the elegant spa resorts, such as Harrogate and Scarborough, as well as the great stately homes like Fountains Abbey and Studley Royal Water Garden, and Vanbrugh's magnificent Castle Howard.
Yorkshire is a subtle mix of ancient and modern. You'll discover that blend as you sip a cappuccino at a sidewalk café in the shadow of the majestic minster in York itself, the ancient capital of the north of England,and one of the world's best preserved medieval walled cities, or as you enjoy a cream cake and a cup of tea at the famous Betty's Tea Shop. It is perhaps, though, the glorious countryside and many idyllic and friendly little market towns and villages of 'Bronte, Herriot and Heartbeat Country' that have come to mean Yorkshire to so many.
In the charming seaside towns and picture-postcard ports, the sea breezes sting your face and sand cushions your steps. You'll find the best fish and chips you've ever tasted. They're served crispy and piping hot, with the famous local side dish of "mushy peas."
Succulent York ham is known around the world. It's all the better here, served with crunchy pickles and a pint of the local beer. Beers fall into two categories: low fermented (lager) and high fermented (ale). "Real ale" is authentic only when drawn from a wooden cask, and each county has its specialty. Yorkshire bitter has become synonymous with quality and is a name accorded only to certain breweries. Stop by the Theakston brewery in the picturesque village of Masham to see the brewers at work and sample the fruits of their labor. In particular, we recommend the "Old Peculiar Strong Ale."
Every town seems to be associated with a product: Wensleydale gives its name to a wonderful cheese. Wensleydale cheesemakers will invite you to taste the white or the milder and firmer blue. Pontefract is renowned for its licorice and Wakefield for its rhubarb - still basking in a welcome revival as a newly fashionable food. Here the pale pink stalks grow furtively in the dark fertile soil of the candlelit shelters of Wakefield's Rhubarb Triangle. Located at the intersection of two roads, Wakefield puts on its party dress for the incredible Rhubarb Festival, which includes tours of hangars used to grow rhubarb, gourmet dinners and cooking demonstrations.
For 200 years, livestock has been the UK's principal agricultural industry. Providing many of the country's traditional Sunday roasts, North Yorkshire boasts some wonderful beef herds. If you're looking for something different, why not try some of this country's traditional native breeds, such as the Dexter, Galloway, Hereford, Highland or Shorthorn?
Oats have always been a major crop in Yorkshire, so it's not surprising that this grain makes its way into biscuits (cookies), oatcakes and the famous ginger parkin. Tarts, cottage cheese cakes and puddings are also common treats. At one time, these baked goods were a way of using up the eggs and cheese that had accumulated during the fast days of Lent.
Yorkshire tea is a special blend, bracing and strong, and perfect for enjoying with all these sweet treats. "Bracks," rich spiced fruit cakes, are even better when thinly sliced and spread with local jam, as served at Botham's in Whitby, a tea and pastry shop where the friendly waitresses still wear traditional little white "pinnies."
Over the years, a number of regional specialties have acquired odd names. Thus you'll find that fat rascals are Yorkshire cookies containing fruits and nuts. The best seem to come from Betty's Cafe Tea Rooms at 1 Parliament Street in Harrogate, if you happen to be in the neighbourhood.
Singin'hinny is a lard-based pastry that whistles as it bakes (thus the "singin'"), due to its substantial fat content.
Stottie cake is a flat bread used to make delicious sandwiches and which is excellent with cheese.
Sly cake is a pastry shell filled with all kinds of dried fruits.
Parkin is a variety of gingerbread made with oatmeal.
One of the best-known desserts of Yorkshire is Wilfra apple cake, made with the local Wensleydale cheese. It used to be made in the little town of Ripon for St. Wilfrid's day (the first or second Saturday of August) to commemorate the saint's return to his native town after a long stint abroad. The inhabitants of Ripon would make dozens of Wilfra tarts, which are actually little cheesecakes, and place them in front of their houses for passersby to enjoy.
Say 'Yorkshire' to most people in a food context, though, and their instinctive response will almost certainly be 'Yorkshire pudding', the wonderfully tasty batter pudding baked in the drippings from a roast, traditionally served in the county as a first course, filled with gravy, before the meat and vegetables.
Toad in a hole
Yorkshire pudding with sausage meat in the middle
Black pudding
Blood sausage.
Pork pie
jellied pork meat made into a pastry pie.
Indeed baked goods are at the heart of Yorkshire culinary tradition - a tradition that is as comforting, down-to-earth and practical as its people.
What is a Yorkshire Christmas Pie?
A "simple" version involves a boned and stuffed pigeon wrapped inside a boned duck, which is itself wrapped inside a boned goose. This lot is then placed in an enormous pie dish with joints of rabbit and forcemeat filling up the gaps and short crust pastry placed on top. Fancier versions include partridges, woodcocks, snipes, grouse, widgeons and calves feet.
The recipe dates from the early 18th century, and recorded versions of it appear at festive banquets at Windsor Castle and Castle Howard.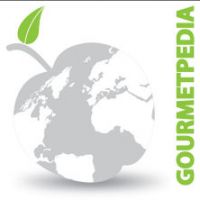 ©Copyright MSCOMM 1996 – 2022. Michèle Serre, Éditeur
Recipes

Products

Entertaining

Chefs

Hints & Tips

Glossaries