A nation that invented afternoon tea to satisfy that long gap between lunch and dinner is clearly a nation obsessed with food. Fresh-from-the-sea fish 'n' chips and sizzling Baltis, vibrant street food and Michelin-starred establishments: you'll find a treat to suit your tastes in England. Tuck into regional specialities, from pikelets to pork pies, stinky cheeses to sizzling sausages. Wash it all down with a carefully crafted real ale, cider, G&T or award-winning wine. England is also famed for its gastro pubs, buzzing food festivals and quirky celebrations of produce – asparagus festival or garlic fiesta, anyone? You'll find the best food and drink in England.
England is renowned for its dairy products including some world-class cheeses produced in many counties, each fine variety bearing the name of its place of origin: Cheddar, Stilton, Cheshire, Derby, Lancashire, Wensleydale, etc.
A traditional English breakfast provides a hearty start to the day. It might begin with hot or cold cereal and be followed by hot dishes including eggs, bacon and sausages, grilled tomatoes or mushrooms, baked beans, toast and marmalade, and coffee or tea. Pubs are traditionally a good bet for a simple and satisfying lunch - a typical midday meal in a pub is the "ploughman's lunch," consisting of bread, cheese, pickles and sometimes cold meat, all washed down with a good glass of ale.
For supper or "high tea," some favorite traditional English dishes include cottage pie (minced beef and vegetables in gravy, topped with a mashed potato crust), shepherd's pie (the same dish made with cubed lamb), "bubble and squeak" (a potato and cabbage cake fried in a hot skillet until brown and crispy), and "toad in the hole" (good English sausages baked in Yorkshire pudding.) Sunday dinners are traditionally somewhat grander affairs, perhaps featuring a roast of beef with horseradish sauce, roast chicken with bread sauce, or leg of lamb with mint sauce, served with roast potatoes and steamed vegetables.
Afternoon tea is a genteel and sophisticated meal, often offered in larger hotels. Traditionally served at 4 p.m., it consists of crustless sandwiches (smoked salmon, watercress or cucumber are some popular fillings), followed by cakes, warm scones with jam and butter or cream, and of course scaldingly hot tea, served with milk or lemon.
There is perhaps not a people on earth with a sweeter tooth than the English - and so it's not surprising to find that baked goods and desserts (or "puddings") are delicious and abundant. There are biscuits (cookies) like gingersnaps and shortbread, and countless cakes, often flavored with spices or dried fruits, or filled with jam and cream, like the Victoria Sandwich. Fruit desserts are popular, from pies and fruit crumbles to trifles and summer puddings made with fresh berries. Though the dense steamed puddings that were once staples of English cookery have for the most part given way to lighter, quicker desserts, still no English Christmas dinner would be complete without the essential plum pudding with brandy sauce.
And while the English retain a fondness for these comforting dishes, passed down from generation to generation, they have been quick to embrace cuisines from other parts of the world. French and Italian cooking, for instance, is extremely popular in England, but it is Indian cuisine, first brought to Britain in the days of the Raj and further popularized with the arrival of Indian immigrants, that has become a quintessentially English food. In every city and town throughout the country you'll find Indian restaurants and "takeaways" serving a whole gamut of curries, chutneys and Indian specialties, of which the British can't seem to get enough.
This short gastronomic tour of England should be enough to dispel any lingering doubts about the country's cuisine. Its simple but delicious fare, carefully prepared and made with fresh local ingredients, can certainly hold its own when compared with that of any other country in the world.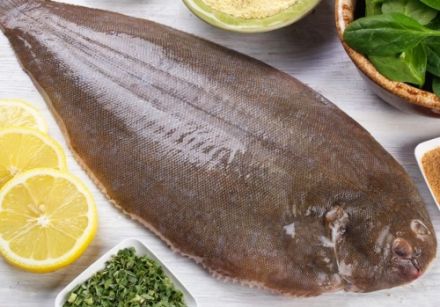 Some local specialities
> Dover Sole
> Pimm's
Pimm's is a gin-based drink containing a mixture of herbs and liquors. A bottle of Pimm's is often mixed with lemonade and chopped-up fruits to make a refreshing summer cocktail.
> Banoffee pie
Banoffee pie is sumptuous dessert consisting of a pastry base, bananas, cream, and toffee made from boiled condensed milk. Tins of Nestlé's condensed milk sold in Britain often feature the original banoffee pie recipe, taken from The Hungry Monk restaurant in Sussex.
> Maids of Honour tart
This dish is an English baked tart consisting of a puff pastry shell filled with cheese curds. Other variations have a filling made with jam, almonds, or nutmeg.
> Oxford marmalade
> Apples
The south east of England is to thank for two popular types of apple: Cox's Orange Pippin and Granny Smith. The latter technically originated in Australia, but its cultivator, Maria Ann Smith, was born and bred in Sussex.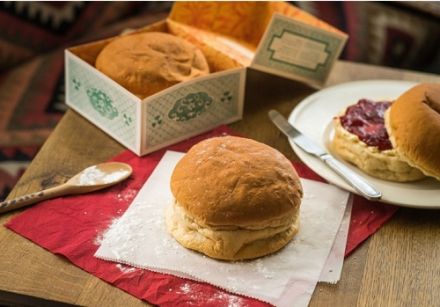 The south west of England is well known for its folklore, including the legend of King Arthur and the sword Excalibur. South-West is renowned for their:
> Cornish pasties
A simple and popular lunch item is the Cornish pasty, a savory pastry turnover filled with chopped meat, potatoes, onions and seasonings. It had its origin in Cornwall, where it served both as meal and "lunch box" for workers heading off to the mines.
> Hog's pudding
Hog's pudding is a type of sausage usually made of pork meat and fat, suet, bread, and oatmeal.
> Cheddar cheese
Cheddar cheese originates from the village of Cheddar in Somerset. It has been around for centuries with early transcripts dating it back to 12th century. It is the most popular cheese in Britain. While other countries in Europe may sell cheese labelled as cheddar, these often differ greatly from the original in taste and style, typically resembling Red Leicester cheese. Ask for the original.
> Sally Lunn buns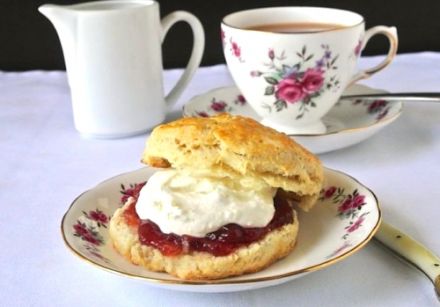 England is renowned for its dairy products: a "cream tea" puts the spotlight on deliciously rich clotted cream from the country's southwest.
The South West is also famous for
> its light scones
> its St. Michael's Mount rum & chocolate cake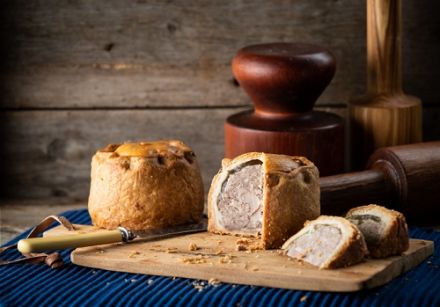 > Melton Mowbray pork pie
The meat in this this famous pie is chopped, rather than minced, and the whole pie is made with a hand-formed crust which gives the dish a slightly irregular shape after baking. It's named after Melton Mowbray, a town in Leicestershire.
> Bakewell tart
This distinctive sweet dish consists of a shortcrust pastry shell beneath layers of jam, frangipane, and a topping of flaked almonds. Some variations include a top layer with almond-flavoured fondant, topped with half a glacé cherry.
> Red Leicester cheese
Red Leicester is a crumbly, orange cow's milk cheese with a reddish rind. It has a slightly sweet, mellow flavour that becomes stronger as the cheese matures.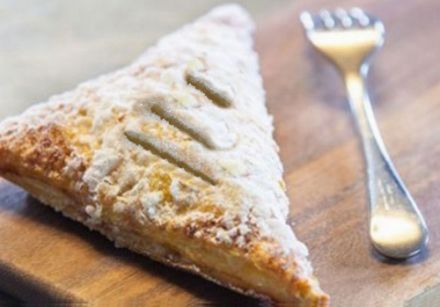 > Pork pie served with apple chutney
A traditional British cold meat pie. It consists of roughly chopped pork and pork jelly sealed in a crust pastry.
> Coventry God cakes
These tasty treats are deliciously crispy on the outside and filled with mincemeat similar to a mince pie at Christmas. To jazz it up, some grand-mothers add a sweet filling made from currents, orange peel, spices and... a drop of rum. Godcakes were handed out at the beginning of the year by godparents to godchildren.
> Staffordshire oat cakes
A savoury pancake made from oatmeal, flour, and yeast.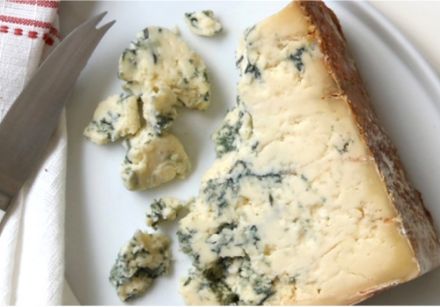 Some specialities :
> Bedfordshire clanger
A clanger is similar to a pasty but with a savoury filling at one end and a sweet filling at the other, comprising a main course and dessert in one package.
Stilton cheese
The distinctive blue-veined Stilton cheese is known for its strong smell and taste, whereas the white version is milder. It is the only British cheese to be trademarked - meaning it can't be produced anywhere else in the world!
> Colchester oysters
Colchester oysters can be traced back to Roman times, with oyster shells found in ancient ruins. They are renowned around the world for their unique taste and texture, and are exported as far afield as Dubai.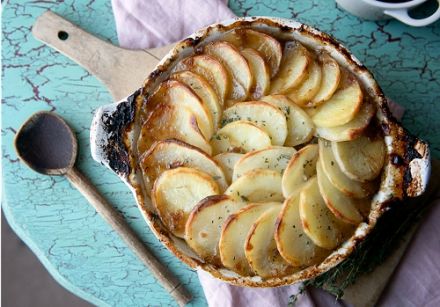 > Lancashire hotpot
This dish is slow cooked in the oven on a low heat to make the meat extra tender. It is made with a mix of lamb and vegetables, covered with sliced potatoes.
> Cumberland sausages
This famous peppery pork sausage, produced in Cumberland, is traditionally rolled in a flat, circular coil which can be up to 50cm long!
> Eccles cake
Packed with sweet, sticky fruit, an Eccles cake is made from flaky pastry, which is filled with currants and topped with sugar.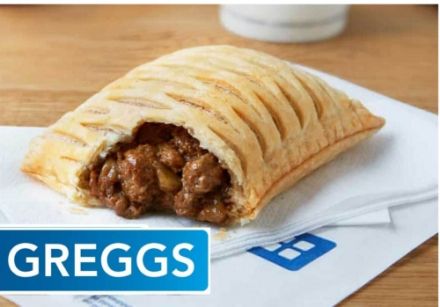 > Chicken Parmo
Modern versions of the speciality, from Teesside, are most commonly made with chicken breast. Pork was originally used, according to locals. To make a parmo, meat is flattened, covered in breadcrumbs, and deep-fried until crisp and golden. It is finished with a layer of béchamel sauce and melted cheese.
> Pease pudding
Making pease pudding involves steeping soaked split yellow peas in stock, and then cooking them for about 40 minutes. The resulting mixture can then be blended with other ingredients – it is often served with ham or bacon.
> Panackelty
This is a casserole dish consisting of corned beef and root vegetables that is slow baked over a low heat.
> Greggs pasties
Whenever we've spoken to those who have left the North East and moved abroad, one of the things they always say they miss most are Greggs pasties! Whether your favourite is a steak bake, a beef pasty, cheese and onion bake or even a sausage roll, it's a taste of the North East, born in the North East - at Gosforth, Newcastle - and made in the North East!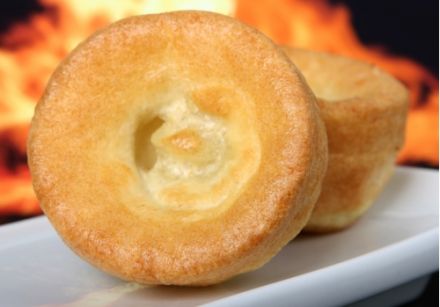 Yorkshire is especially well known for its pudding which is part of every traditional Sunday roast.
> Yorkshire pudding
The Yorkshire pudding originated as a low-cost meal to fill the stomach. It consists of eggs, flour, and milk. It is traditionally served with beef and gravy. Its bowl-like shape is useful to mop up every last morsel of a delicious Sunday roast!
> Parkin or Perkin cake
This dish is a gingerbread cake which is traditionally made with oatmeal and black treacle. It is hard but becomes moist and sticky when resting. It is traditionally eaten on Guy Fawkes Night (5 November).
> York ham
> Wensleydale cheese
Wensleydale is a valley in the beautiful Yorkshire Dales. The cheese that bears its name has a crumbly, moist texture, with flavours of honey and fresh acidity.
To learn more about flavours of Yorkshire, click here.
..........
Top photo: Tea Time at the Connaught, Mayfair, London
Lancashire hotpot (Chef Jeff Baker for Farmison&Co); Dover sole (Fulton Fish Market)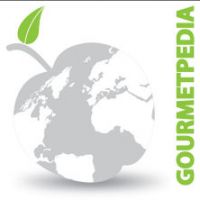 ©Copyright MSCOMM 1996 – 2023. Michèle Serre, Éditeur
Recipes

Products

Entertaining

Chefs

Hints & Tips

Glossaries