Restaurant Enoteca Pinchiorri
To contact the establishment
Via Ghibellina, 87
I-50122 Florence
Italy
Tel: (39) 055 24 27 77
Fax: (39) 055 24 49 83

Owner: Giorgio Pinchiorri & Annie Féolde

The first woman in Italy to be awarded three Michelin stars, Annie Feolde reigns both in Tuscany and Tokyo. Her biography reads like a fairy tale: a little girl who grew up along the Promenade des Anglais in the south of France, and then discovered Tuscany and made it her kingdom. It's a love story of Annie Feolde, a man and his region. From being a lonely government employee in Paris, the gentle Annie became a self-taught cook for the handsome Giorgio Pinchiorri, a diplomat of wine from the Enoteca Nazionale in Florence which would eventually bear his name.
"In the beginning, we would serve a few dishes to accompany the great wines selected by Giorgio," Annie explains. But she got hooked and cooking became her passion, its aromas wafting through this Florentine palazzo with its maze of rooms, frescoed ceilings, patio and immense wine cellar.
A dozen years ago, Annie received the supreme Michelin consecration, then yielded to Japanese sirens and opened a copy of the Enoteca Pinchiorri in Tokyo, followed by a Cantinetta. Michelin, believing she had overextended herself, took away one star. Nonetheless, Annie is everywhere at once: cook, manager, trainer.
In the 2004 guide, she got her third star back. Nothing about her style has changed, which consists of an inventive but down-to-earth cuisine, both regional and sophisticated, that pays tribute to all of Italy, but particularly Tuscany. Some of her landmark dishes of the last 20 years immediately spring to mind: fried cod in tempura with "papa al pomodore," a rethinking of the classic Tuscan tomato and bread soup; scampi wrapped in pancetta with bean and pearl barley soup; "pici con le briciole," little twists of pasta made with semolina flour and water, flavored with anchovies and herbs, with fried pork rind topped with Tuscan bread crumbs and a cream of white beans from Lucca. And then this admirable variation on porchetta, originally from Umbria, in which quail replaces pork, and in which the meat with its skin, stuffed with its liver, is seasoned with pepper and served on a purée of peas and rosemary-flavored chickpea croquettes.
A chat with Annie Feolde
"I spent my childhood between Nice and Roquefort-les Pins, left a bit too much to my own devices, since both my parents worked in the hotel industry – my father at the Casino Municipal, which no longer exists, and my mother at the Negresco. I came to realize that Nice and its surrounding area were a privileged place, combining nature, freedom and the sea, but seeking a job, I ended up in Paris at age 20 working for the Post Office and Telecommunications department. My work was too monotonous and didn't suit my temperament so I left for England to perfect my English, and then I discovered Tuscany.
"Abandoning the classic restaurant format, Giorgio had decided to devote himself to wine, developing a concept that was completely new at that time: the 'wine bar,' where people could buy bottles from the cellar and take them home, or sample the same wines by the glass in the tasting room on the main floor. This was at the end of 1972. It's no secret that tasting a number of great wines on an empty stomach can be dangerous… and that is how I found my calling, creating little dishes to accompany the wine tasting. The little bites soon became a buffet, then a restaurant menu. Gradually, the emphasis shifted to the food, while Giorgio was able to guide customers through the choice of 150,000 wines from his Italian-French-Californian cellar, a blending of food and wine that made our reputation, each of us evolving in a specific area to end up in unified harmony.
"Our restaurant is located in an old Florentine Renaissance palace just steps from the church of Santa Croce and the museum (and former house) of Michelangelo Buonarroti. Its architecture immediately inspires respect and we have done all we can to preserve its noble atmosphere without making it into a museum.
"Italy has become my second homeland, first and foremost because I work there and particularly because every day I rub shoulders with many artisans – simple, direct, sometimes even rude, but full of talent, heart and whimsy, who have made me understand that we live in a very human world where the desire to please still exists, as does a great deal of friendship!
"Over the years – and I've been here for 36 years now – the Italians have said to me, 'Ah, you're from Nice, but Nice used to belong to Italy, so you're Italian!' I took a bit of umbrage at that, being French at heart and having French roots, until the day I read that the comté of Nice was offered several times to France and several times to Italy, depending on the prevailing political winds. So I finally said, 'Basta!' My heart is like a border town, bridging two passions: both the city where I grew up and the one that awakened me to love and cooking."
The masterpiece of this rustic-refined style? It must surely be the oven-roasted pig, with its crisp skin, potato salad, beet oil, sweet-sour shallots and head cheese or "soprassata." When it comes to desserts, the creations based around milk, sponge cake, mousse, Bavarian cream, ice cream and froth will transport you back to childhood. And so we have, from this Franco-Tuscan magician, a banquet fit for a king, but made for any gourmand who loves honest and authentic flavors. Wonderful! There is also spaghetti "a la guitarra," made on a stringed machine, with cream of peas and marinated mackerel fillets to which she adds a slice of roasted salt pork. The fish menu changes with the tide's whim. Today red mullet is paired with a little escalope of foie gras, Jerusalem artichoke purée and some fried thinly-sliced artichokes. Scallops served with their tomato-flavored coral, cooked like tripe, are accompanied by a fried raviole stuffed with squash and oregano. This simple, fresh cooking, once content to play a supporting role to selected wines, is now at center stage.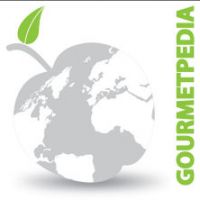 ©Copyright MSCOMM 1996 – 2022. Michèle Serre, Éditeur
Recipes

Products

Entertaining

Chefs

Hints & Tips

Glossaries