Conviviality at the heart of charcuterie platters
All about charcuteries or cold meats > Conviviality at the heart of charcuterie platters
Beat the cold weather blues by spending quality time with the ones that matter most while putting together charcuterie boards made with charcuteries from France
During winter, it's time to stay home and invite people in. Whether with friends or family, spending quality time together in an informal setting makes for great memories.
Charcuterie boards take the guess work out of what to prepare, allowing for less time in the kitchen and more time in good company. Quick and easy to put together, you can let your creativity shine by making high-quality French charcuterie the center of attention. Your guests won't be able to resist their quality and variety.
Prepare a French-style charcuterie platter!
It's a well-known fact that we eat with our eyes first. Leaving one's guests in awe also ranks among the qualities of a good host. To make a charcuterie platter that will dazzle your loved ones, choose a variety of products that showcase a diversity of colours, tastes and textures. For starters, here are five must-serve charcuteries:

Dry-cured ham: An exceptional know-how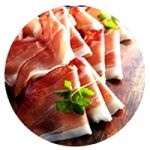 To enjoy a dry-cured ham is also to appreciate the know-how required to produce a European charcuterie of such quality. While they've all been rubbed with salt multiple times, the maturation time varies depending on the type of ham. Thanks to different salting techniques, pig breeds and diets, the drying process and the option of smoking the meat, this charcuterie category offers many flavour possibilities, each one as enticing as the next.
> To learn more, click here.
Dry sausage: Savour an art of invention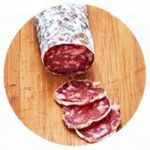 A careful selection of raw materials is at the root of the dry sausage's (saucisson sec) high quality. Made from a mixture of meats (3/4 lean and ¼ fat) that are coarsely chopped, the saucissons are then seasoned and dried. The seasonings are varied and can include ingredients such as green peppercorns, cardamom, cloves, nutmeg, garlic and wine. The choice of spices as well as the drying period, which can vary between 4 and 10 weeks, contribute to the variety of saucissons secs. They are all unique and each one is tastier than the next.
> To learn more, click here.
Terrine: A mark of history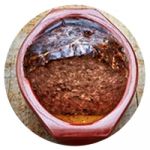 As far back as the Middle Ages, people would distinguish terrines from pâtés by their cooking method: they were cooked in earthenware containers instead of dough. Over the years, different regions developed their specialties. To enjoy a terrine is also to discover the flavours of a particular slice of history.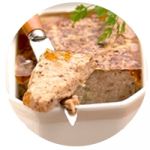 Similar to terrines, the ingredients that make up pâtés can vary considerably and are a reflection of a heritage. While one chef will call for rabbit and prunes, another will prefer orange-flavoured duck.
Some are creamy, others more textured. A world unto itself and a flavour for every occasion.
White ham: The classic of classics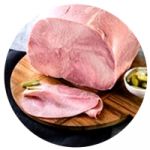 Also called cooked ham, white ham is a salted ham that can be steamed, braised, au torchon, with or without bones, or stewed. Regardless of the variety and preparation method, the end product continues to be a key component of charcuterie platters. To a certain extent, it's the item that everyone can agree on.
> To learn more, click here.
Friendly gatherings are the perfect occasion for culinary discoveries. French charcuterie, always appreciated for its quality and savoir-faire, was made to be shared. Choosing a charcuterie board for your next social gathering is a sure-fire way of getting you out of the kitchen and spending more time with the ones you love. It's no wonder this European tradition has been around for centuries. Bon appétit!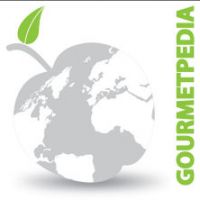 ©Copyright MSCOMM 1996 – 2021. Michèle Serre, Éditeur
Recipes

Products

Entertaining

Chefs

Hints & Tips

Glossaries