All about tea > Russian tea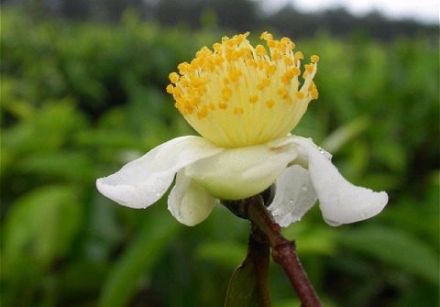 The history of tea in Russia can be traced back to the seventeenth century. Tea was first offered by China as a gift to Czar Michael in 1618.
In 1689, tea was regularly imported from China to Russia via a caravan of hundreds of camels traveling a 18-month-long journey, making it a precious commodity at the time.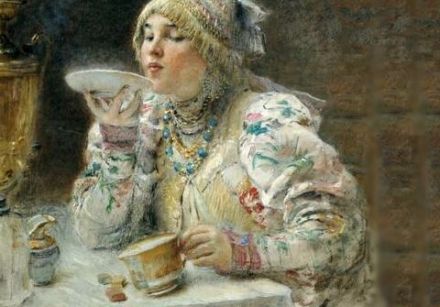 From China to Russia, drinking tea slowly became an everyday enjoyment, although initially, it was only available to the Russian elite and the Czar during tea ceremonies or tea meetings.
Nevertheless, it all started to change when Russia established a trade deal with China, thus increasing tea supply and making it available to everyone from the mid 19th century onwards.
Russian tea may have a brief history but it definitely stands out for its peculiar process of brewing and the environment that surrounds the creation of this original tea.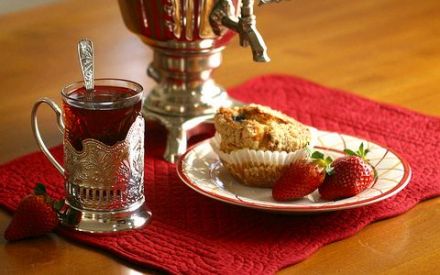 Russians use "podstakanniki" - a special glass cups in a silver holder.
To complete Russian tradition, try a cup of tea with baked goodies, honey or homemade jam.
Russian woman can't live without samovar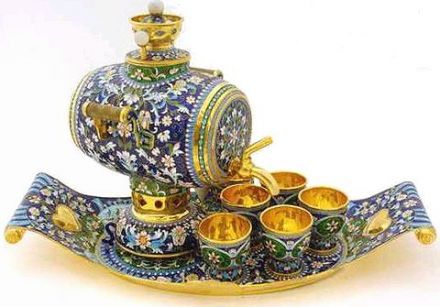 Samovars have a shape of urn. Often they decorated with pictures from Russian folk stories. Some samovars are small and can hold only three liters of water, when the largest hold up to 30 liters. Usually, they made from no oxidized metal . There is a special place for a small teapot to sit on the top of samovar. While the water is heating in the samovar, a significant amount of tealeaves is brewing inside the teapot on the top. This strong drink called "zavarka", which needs to be diluted with water from samovar before you drink it. Just mix a small amount of "zavarka" with hot water from the tap or sprout at the side of samovar. The tea brewed in samovar is ready to serve all day long.
In some regions, Russians use three teapots that sit on top of each other to keep the tea warm. Sometimes, they are crafted in such a shape, that when fit together, they have a look of a person or animal. Three teapots are convenient for use when you want to brew two different kinds of tea at the same time. The middle pot, usually, holds strong black tea, the smallest on the top - any herbal, and the large pot on the bottom holds hot water. As you pour the drink, you can mix the desired kind of tea and dilute with water.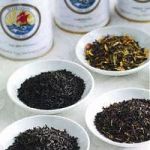 Much more than just a warming brew, tea has a profound legacy, as a social ritual, as a comfort in times of adversity, as a steadfst grace note in many cuisines. the Petrossian family has a particular passion for the blending of teas, a skill cultivated long ago by their Aunts Bella and Irina and carried on today by their progeny.
Bella's masterpiece is a blend of Ceylon and Chinese while Irina's adds Spanish orange, bergamot and lemon to Keyman and Peking Orange for a fragrant, soothing cuppa.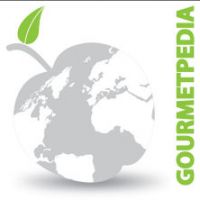 ©Copyright MSCOMM 1996 – 2022. Michèle Serre, Éditeur
Recipes

Products

Entertaining

Chefs

Hints & Tips

Glossaries