German wine differs from wines of other countries — it's light, lively and fruity, thanks to Germany's unique climatic and geological conditions. With the exception of Saale-Unstrut and Sachsen in the east, the wine-growing regions are concentrated in the south and southwestern part of Germany. They are among the most northerly wine regions in the world and straddle the border between the humid Gulf Stream climate of the west and the dry Continental climate of the east. The long growing season and moderate summer temperatures bring forth filigree wines that are relatively low in alcohol. The diversity of German wine stems from the many soil types and grape varieties — there is no "uniform" type or style of German wine — and this diversity is reflected in Germany's 13 wine-growing regions.
Ahr
Mittelrhein
Mosel-Saar-Ruwar
Rheingau
Nahe
Rheinhessen
Hessische Bergstrasse
Franken
Pfalz
Baden
Württemberg
Sachsen
Saale Unstrut
Müller-Thurgau, or Rivaner
It is the second most widely planted grape in Germany and accounts for about a fifth of the total vineyard area. It is named after Professor Müller of Thurgau, Switzerland, who created it in 1882, by crossing Riesling and Gutedel — not, as previously assumed, Riesling and Silvaner. It yields about 30% more than Riesling and ripens earlier, usually in the latter part of September. While it requires less sun and makes few demands of the climate, it does need more rain than Riesling, as well as soil with good drainage. Its wines are generally light, with a flowery bouquet and less acidity than Riesling. Müller-Thurgau often carries a hint of Muscat in its flavor. The wines are best consumed while fresh and young. Dry versions are increasingly marketed under the synonym Rivaner. It is grown throughout German wine country.
Riesling
Of all the grapes of Germany, the most noble is the Riesling — a variety that can do well even in stony soil and can subsist on a minimum of moisture. It is also frost-resistant and a very dependable bearer of high quality grapes which have an acidity level that gives the wine a racy freshness and contributes to its long life. To reach its full potential, Riesling needs extra days of sun; ripening is very late, usually not until the latter half of October. Riesling produces elegant wines of rich character with an incomparable fragrance and taste, often reminiscent of peaches, or when young, apples. In 1996, the vineyard area planted with Riesling exceeded that of Müller-Thurgau, thus making it Germany's premier grape variety in terms of area (ca. one fifth of all plantings). It is grown throughout German wine country.
Silvaner
It is an old variety that once was the most important grape in Germany. Today, it accounts for some 7% of the country's plantings. A reasonably abundant producer, it likes average exposure to the sunshine and needs moist soil. It ripens about two weeks earlier than Riesling. Silvaner makes a rather full-bodied, neutral wine with a mild acidity, and is generally best enjoyed while young. A traditional variety in Franken, Rheinhessen and Saale-Unstrut, there are also extensive plantings in the Pfalz and an enclave in the Kaiserstuhl district of Baden.
Spätburgunder
In Germany, the Spätburgunder is to red wine what the Riesling is to white wine: the cream of the crop. Sensitive to climate and soil, it needs warmth (but not intense heat) to thrive and does well in chalky soils. As the name implies, it ripens late (spät) and it was brought to Germany from Burgundy, where it has probably been cultivated since at least the 4th century (first documented, however, in the 14th century). Called Pinot Noir in France, this grape produces elegant, velvety wines with a distinctive bouquet reminiscent of bitter almonds or blackberries. The traditional style of German Spätburgunder is lighter in color, body and tannic acidity than its counterparts from warmer climates. Many contemporary winemakers, however, are producing wines that are more international in style, i.e. fuller-bodied, deep red wines with higher tannin levels. Often the wines take on more depth and complexity (and a light vanilla tone) if they are aged in small (225-liter) oak casks. Just over 7% of Germany's vineyard area is devoted to Spätburgunder, primarily in the Ortenau and Kaiserstuhl districts of Baden; it accounts for over half the plantings in the Ahr.
Portugieser
It is a very old variety that probably originated in the Danube Valley (not Portugal). This prolific, early-ripening grape yields mild, light, easy-to-enjoy wines. A good portion of the annual crop is vinified as Weissherbst (rosé), yet even the red wines are fairly pale in color. While the Pfalz by far has the largest number of plantings, there is a considerable amount of Portugieser grown in Rheinhessen and it is the second most important variety in the Ahr.
Trollinger
This very old red variety probably originated in, and derives its name from, Tirol, where it is known as Schiava (Italy) and Vernatsch (Austria). A large yielder that ripens very late, it produces fragrant, fruity, light wines with a pronounced acidity.
Once found throughout German wine country (primarily as a table grape), today it is planted almost exclusively in WŸrttemberg, where it is the quaffing wine of choice.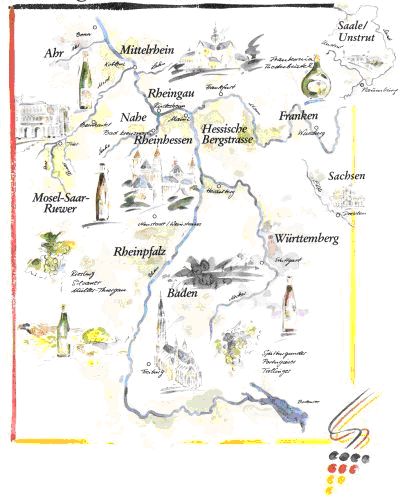 ..........
Thanks to the German Wine Information Bureau for their kind assistance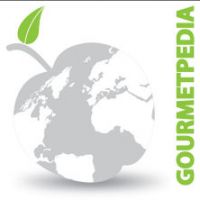 ©Copyright MSCOMM 1996 – 2019. Michèle Serre, Éditeur
Recipes

Products

Entertaining

Chefs

Hints & Tips

Glossaries