All about Mardi Gras... in France
When Mardi Gras and mid-Lent come round, doughnuts reappear on all the tables of France. They're a symbol of opulence, because they're rich in flour, eggs and milk. They change name and shape by region. Recipes vary, depending on whether you use butter, oil or cream, yeast or baking powder, orange flower water, rum, lemon, anise or Pastis... but each one is more delicious than the last! In fact, some are so popular that they're made all year round. Hop aboard to discover merveilles, oreillettes, bugnes and the other doughnuts of carnival!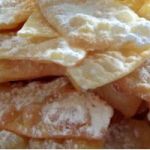 This is the land of "oreillettes" flavored with orange blossom water and lemon zest.
In Montpellier, they add a touch of rum in the dough.
In Nice, they serve ganses or gansettes, prettily knotted, and sometimes fried in olive oil. In Corsica, frappes are flavored with myrtle eau-de-vie.
There are also
- Chichi frégi in Provence, and
- Mascottes in Côte d'Azur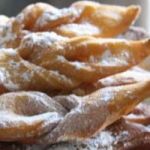 "Bugne" is a Mardi Gras classic in France, a delicious doughnut-like pastry sprinkled with icing sugar that dates back to the Middle Ages. Hot "bugnes" were once sold to travelers along the road between Dijon and Arles.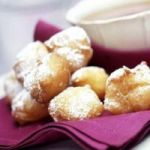 "Beugnets," often with apples, and pets-de-nonne (nun's farts) are the stars. Sometimes called "soupirs de nonnes," (nun's sighs), these fried choux paste balls are light and crispy, and have become popular everywhere in France!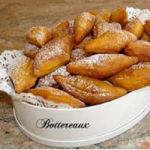 Here, doughnuts in geometric shapes are called "Bottereau" or "Tourtisseau".

Strasbourg's roussettes are fluted rings made from a dough flavored with kirsch. In Lorraine, corvechets, rich in eggs, are the favored treat.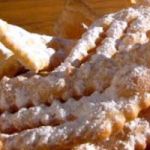 Doughnuts made with milk or cream are called "guenilles," or rags, because the shape of this treat from the Auvergne is reminiscent of strips of cloth.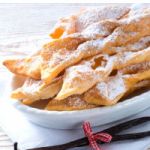 The merveille from Bordeaux and Gascony is cut into a round, diamond or square shape, with a hole in the centre.
In Les Landes, crouchepette is the name given to a particularly puffy, crispy doughnut.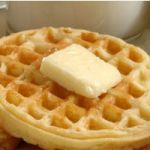 The tradition here runs more to waffles than to doughnuts. There's a simple historical explanation: doughnuts are cooked in oil, a product not produced in the north, the land of butter and lard! And because the Lenten tradition meant no eggs, pancakes were also popular.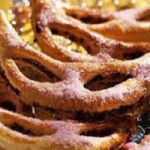 - Bougnettes in Catalan country
- Craquelins in Savoy, Limousin and Brittany
- Croquignolles in Anjou
- Faverolles or Frivolles in Champagne
- Merveille de Gascogne and de Haute Savoie
- Rondiaux in Sologne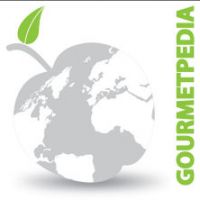 ©Copyright MSCOMM 1996 – 2019. Michèle Serre, Éditeur
Recipes

Products

Entertaining

Chefs

Hints & Tips

Glossaries