All about Russia... in Russia
Maslenitsa, the celebration to bid farewell to winter, precedes the Great Lent of forty days leading up to Easter. Mardi Gras lasts an entire week here, separating the two most important seasons in the Slavic calendar: winter and spring. Seven days of celebrations and dances, an occasion to eat one's fill before the long period of abstinence that forbids the consumption even of butter and eggs.
The official dish of Maslenitsa is a stack of Russian blini, thick, round, golden pancakes, that are a pagan symbol of the sun made from ingredients permitted by Orthodox tradition: butter (symbol of plenty), eggs and milk. Home-made blini are served with hot melted butter, cream (smetana), red caviar, smoked salmon or anchovies, or eaten as a dessert with honey. All accompanied, of course, by chilled vodka. The first blini is always dedicated to the departed and placed near the window or given to beggars. There is no meat, except on the final day before the fast.
Each day of the week has its own theme: mother-in-law's day, when she hosts her son-in-law for a pancake meal, son-in-law's day, sister-in-law's day, etc. Sunday is the day of pardon and the end of the carnival celebrations with the ceremonial burning of winter in effigy. In the old days, people would throw the last pancakes and leftovers from the celebrations onto a bonfire. Children would be told that all the rich heavy food had been burned in the fire because during Lent, one had to fast and abstain.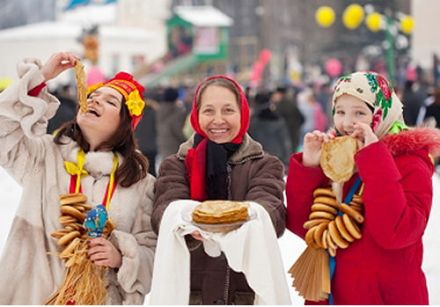 In the streets, you'll encounter people selling blini and pretzels. The latter are threaded onto a string or ribbon and worn around the neck.
The farewell to carnival takes place on the first day of Lent: Clean Monday, a day of cleaning away sin. Formerly on Clean Monday, men would "rinse their teeth," i.e. drink vodka to eliminate any remainder of festive foods from the mouth, while the women would wash the dishes, cleaning away any fat or leftovers so that no signs of the celebrations remained from the day before. Clean Monday also meant washing oneself: people would visit steam rooms to purify themselves.
Today, few people observe the religious abstinence and Maslenitsa is instead considered a reason to eat pancakes and to invite friends and relatives over, or to meet in a restaurant to eat blini.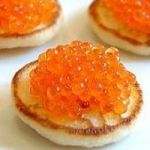 Suggestions
Everything is an excuse to eat pancakes! They can be made into a lasagne or served simply with cheese sauce.
On the sweet side, they also make a cake of crepes, by piling them and interspersing them with cream or melted chocolate.
..........
Photo with pancake, caviar and sour cream: MSCOMM/ID: 36907494/ID15143712/Iakov Filmonov
Photo of three Russian girls eating pancakes: MSCOMM/http://fr.123rf.com/profil_jackf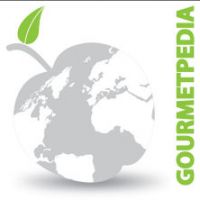 ©Copyright MSCOMM 1996 – 2022. Michèle Serre, Éditeur
Recipes

Products

Entertaining

Chefs

Hints & Tips

Glossaries