The Cuisine of Greater Montreal
Montreal, the economic engine of Quebec, has an international reputation for being friendly, open and welcoming, with a vibrant cultural scene, pulsating nightlife and good-natured revellers... but it's not easy to talk about Montreal cuisine.
The province's biggest metropolis moves to the rhythm of the many cultures that make it up. Montreal is composed of 11 neighborhoods, each with a distinct personality.
Travelling up the St. Lawrence you'll find hip restaurants with cutting-edge cuisine. Old Montreal no longer revolves around the cooking of the past; instead, inside its stone walls you'll find some of Quebec's greatest chefs at work. "Little Italy" is home to the region's largest Italian community since the 19th century, emanating a great joie de vivre. Among the maze of streets you'll come across magnificent churches with impressive frescos, restaurants, cafés and Italian groceries. The Jean Talon market is certainly the liveliest space. Here you'll find Charlevoix veal alongside honey from the Laurentians. Very early in the morning, farmers set up their trestle tables to lay out their seasonal fruits and vegetables. It's the city's biggest market, followed by the Atwater.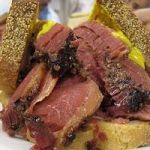 If you had to pick just one Montreal specialty, it would be smoked meat. The waves of Eastern European Jewish immigration forever changed the city's culinary landscape. Smoked meat is to Montreal what pastrami is to New York and what corned beef is to Toronto: a truly emblematic food. These three products, however, have distinct identities. Pastrami is generally made with eye of round, while corned beef and smoked meat are made from the brisket. Only smoked meat is smoked.
Brisket is a rather tough cut. Poor Eastern European Jews were able to buy this cut cheaply, but they had to develop various ways of preparing it to make it tender.
In Montreal, these immigrants settled mostly on Rue St-Laurent. Al Kravitz was one of them, bringing with him an old recipe from hs native Lithuania. The method hasn't changed since: after some of the fat is removed, the meat is placed in a brine then cooked very slowly. It is then covered in spices: peppercorns, coriander, cumin, mustard and celery seeds, paprika, garlic, salt and sugar, and smoked for 10 days to give it its incomparable flavor.
Al Kravitz opened his first establishment in 1908 on the corner of Duluth Street, followed by Ben's on Maisonneuve Boulevard where sandwiches sold for five cents. The deli was open 23 hours a day, leaving just enough time to sweep the floors. It was followed by Myer Dunn in 1927, Schwartz's of Romania in 1928, the Snowdon Deli in 1946 and Lesters in 1951. Today, these names are still part of Montreal's culinary landscape. The 1950s were the heyday of the deli. Famished throngs headed through the doors after the theaters and discos closed. It's still not uncommon to see a workman next to someone in evening dress, or an unemployed person sitting alongside a government minister. There's no class system here - just people who want a good smoked meat sandwich. Do you prefer it lean, half and half or fat? The fat content of a sandwich depends on the skill of the slicer, particularly on his ability to balance the lean and fatty parts of the brisket. A good slicer is priceless, because the juiciness of the sandwich depends on him. The slices are piled at least 7 cm high between two pieces of rye bread spread with mild mustard. For perfect bliss, the smoked meat sandwich is served with crisp French fries and a big pickle.
..........
Top photo: A dish by Normand Laprise of Restaurant Toqué!, one of Old Montreal's top tables
Recipe photos: Pork loin, Eric Gonzales, Cube Restaurant, downtown Montreal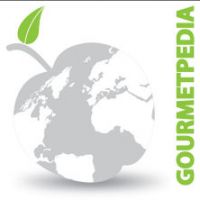 ©Copyright MSCOMM 1996 – 2022. Michèle Serre, Éditeur
Recipes

Products

Entertaining

Chefs

Hints & Tips

Glossaries