Flavors of Canada > Quebec > Île d'Orléans
When he discovered Île d'Orléans, Samuel de Champlain was astonished by the rich vegetation of all sorts that the island harbored. Celebrated in song by Félix Leclerc, the island is only a stone's throw from the capital, Quebec City: just 15 minutes from downtown across from Montmorency Falls.
A charming island worth the detour! Six municipalities, each with its own distinct cachet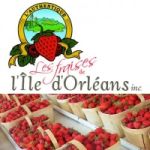 Saint-Pierre
Before leaving the island, be sure to visit the gift shops and artisans to sample their cider, terrines, confits, apple butter, and other local delicacies. Find our more about the famous blackcurrant liqueur made on Ile d'Orléans at the Economuseum Cassis Monna et filles.
Sainte-Famille
Time to pick your own apples.
Saint-Laurent
Admire the farm stands and strawberry fields for which the island is renowned. On your way to the next village, you'll pass by a flour mill that dates back to 1715.
Saint-François
Here the sea meets fresh water and teems with sturgeon, eel and sea bass. Saint-François is still rooted in its agricultural past, growing potatoes, strawberries and, in particular, leeks.
Sainte-Pétronille
Known as the "tip of the island" by those who live on it, Sainte-Pétronille recalls the glory days of the English-speaking community. Treat yourself to a stop at the local vineyard and chocolate store.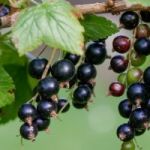 Saint-Jean
Saint-Jean is acknolwedged as one of Quebec's most beautiful villages. In days gone by, St. Lawrence River pilots and navigators were the main residents of Saint-Jean-de-l'Île-d'Orléans. The houses they lived in—dating from 1825 to 1860—have been preserved in the center of the village. Today the land is mainly agricultural, home to dairy production and fruit and vegetable growing. Here we find the largest producers of strawberries whose farms are exposed to wind and sun enabling them to cultivate sweet delicious fruit from early spring to late fall.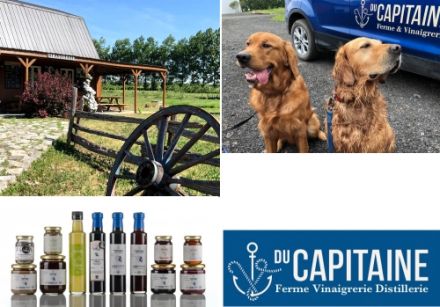 A continuing adventure
In 1993, Vincent Noël, a twelfth-generation market gardener, began growing black currants in Saint-Jean on the the Ile d'Orléans. In 2001, he received accreditation as a master vinegar maker in Quebec, joining the ranks of researchers from the University of Guelph, Ontario, and artisans and other master vinegar makers in Italy, France and Austria.
In 2006, with the arrival of France Gagnon, a naturopath by training with an interest in healthy products and organic growing, Vincent expanded his testing, analysis and research to create a signature product: natural, traditionally-produced black currant vinegar of exceptional quality. Since then, the adventure has continued and history has been made!
Today, Du Capitaine is a small agricultural complex that includes a farm where the growing and preparation of black currant, red currant, sweetclover and lavender take place; a vinegar production centre, where all the vinegars are prepared; and a cellar where the vinegars are aged in wooden casks.
The business combines organic growing, local supply and artisanal production methods: an approach that respects the tradition of vinegar makers of the past.
Always seeking the unexpected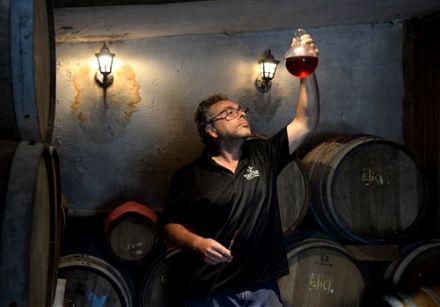 "We're always trying to create new combinations, a process that is both surprising and invigorating - particularly when some of our creations exceed expectations." Here are the latest three:
> Organic sweetclover vinegar - Also known as the "mock vanilla" of Quebec, this herb flavors the vinegar with a subtle vanilla scent.
> Black garlic vinegar - The idea comes from Jean-François Émond, owner of L'ail de l'île. This is a happy blend of the black garlic's sweetness and the vinegar's acidity.
> Organic spruce vinegar - Certainly the most surprising. Spruce buds lend an unexpected freshness to the vinegar. The flavor adds zest to any northern wild meat recipe.
These three new vinegars are in addition to the existing ones, bringing the wide range of Du Capitaine vinegars to seventeen, each completely unique from the others: 4 balsamics, 2 blackberry, 2 red currant, 2 apple, 1 raspberry, 1 honey, 1 vanilla and 1 maple.
From July 25 to August 10, visitors are invited to pack a picnic and a straw hat, because after the strawberries and raspberries come the "you-pick" black currants, grown organically and bursting with healthy benefits. Du Capitaine's lands are sufficiently vast that keeping a safe distance poses no problem.
Come to the island for a few hours, a weekend, or a week. Come explore the black currant fields as you would a vineyard and enjoy a true terroir product.
> To learn more about black currants and discover recipes, click here.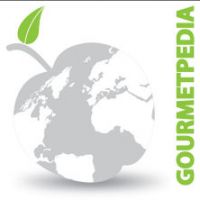 ©Copyright MSCOMM 1996 – 2022. Michèle Serre, Éditeur
Recipes

Products

Entertaining

Chefs

Hints & Tips

Glossaries