Recipe

Photos

Flavors of Italy
Total time: 30 to 60 minutes
Preparation time: A few minutes
Rising time: 20-30 minutes
Cooking time: 10 minutes
Difficulty: Easy
Are you familiar with calzone? It is a pizza that is folded in half and closed with a scalloped edge so that the food inside is steamed. It came into being more than 150 years ago in Naples, but it can now be found throughout Italy, from north to south. It is a stuffed pizza, bulging with vegetables, cheese and other fillings. The ingredients are carefully chosen by the pizzaioli who work the dough to avoid creating any bubbles so that when it comes out of the oven, it will have the softness of bread with a bit of crunch.
Giovanni recalls his childhood in Brindisi: his mother would go out to pick spinach in her garden to stuff the calzone. She would grate Mozzarella or Pecorino Romano onto it, perhaps with a little Parmigiano, and then always add some tomato sauce fragrant with basil and oregano. She would add a little olive, dill and perhaps some chipole fresco, native onions.
What is so wonderful about this kind of pizza is that all the ingredients keep their flavours. All the flavours are sealed in, whereas on a traditional flat pizza they dissipate, dry out and lose their succulence.
Every region and family has its own recipes. So, for instance, in the Basilica region, at the bottom of the Italian boot, they serve a calzone di verdura, stuffed with swiss chard, peppers and raisins.
Giovanni was eager to tell us the ingredients that went into his dough, as well as to share a few secrets - without, however, giving everything away! I am giving approximate proportions so that you can create your own dough.
Ingredients
Dough
- 1 lb. white flour, with a small handful of wholewheat flour (10 to 1 proportion)
- 175 g (6 oz.) olive oil
- 2 or 3 tbsp. vegetable shortening for tenderness
- A pinch of salt
- A pinch of sugar
- 1 tbsp. baking powder
- 1 packet of yeast
- 2 or 3 tbsp. 7-up or other clear carbonated drink to aerate
- Water
Filling
- Shrimp
- Capicollo
- Peppers
- Mushrooms
- Tomato sauce*
- Cheese - mozzarella, pecorino or mozzarella with a little parmesan or feta added
Work together all the ingredients, incorporating the vegetable shortening until the mixture is smooth and well-blended; the water and the 7-Up will give the dough crunch, while the shortening will make it tender. The proportions can vary depending on the texture you desire; let rest 20-30 minutes;
divide the dough into 4; flatten with a rolling pin to make 4 circles;
spread the tomato sauce on the circles; add the other ingredients, finishing with the spices and cheese;
fold in half; scallop the edges to seal them well; make three small gashes in the top to allow the steam to escape;
place into a wood-fired oven or into a 450° F (240° C) oven for 8 to 10 minutes.
*Tomato sauce

Giovanno uses only Italian Pastene tomatoes that he heats with oregano, basil, a drizzle of olive oil, a pinch of salt and a pinch of sugar to cut the acidity.
Giovanni says that the quality of the tomatoes is of the utmost importance, since they set the standard for the whole calzone.
***** CODE PUB = PUB_G *****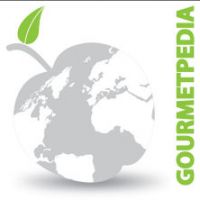 ©Copyright MSCOMM 1996 – 2020. Michèle Serre, Éditeur
Recipes

Products

Entertaining

Chefs

Hints & Tips

Glossaries