Cod "Marbré" with Ratatouille and Sweet Pepper Coulis Recipe
Recipe

Photos

Chef's Recipes

"Sweet" or "bell" peppers are members of the Capsicum family, but are distinguished from their chili cousins by their larger size and less aggressive flavor.
Eggplant is always eaten cooked. Choose smaller, more tender ones, that contain fewer seeds.
For 8 servings
Cod
- 1 – 300 g (10 oz.)
fresh cod
fillet, cut from the center
- 8 spinach leaves, blanched
- 1 liter (4 cups) court-bouillon
- Salt and freshly-ground pepper
Finishing
- 2 tbsp. basil oil
- 1 nice zucchini
Ratatouille
- 3 sweet peppers (1 red, 1 green, 1 yellow)
- 1 green zucchini, unpeeled, cut into 5 mm (1/4") dice
- 1 eggplant, unpeeled, cut into 5 mm (1/4") dice
- 3 tomatoes, peeled, seeded and diced
- 2 tbsp. olive oil
- 20 g (2/3 oz.) chopped shallot
- 1 whole clove of garlic
- 1 chopped clove of garlic
- 1 sprig of thyme
- Salt and freshly-ground pepper
Sweet pepper coulis
- 1 red
pepper
, blanched for 2 minutes and peeled
- 20 ml (4 tsp.) chicken stock
- 10 ml (2 tsp.) olive oil
- 2 tbsp. lemon juice
- Tabasco
- Salt and freshly-ground pepper
Eggplant caviar
- 50 ml (3 tbsp.) olive oil
- Salt and freshly-ground pepper
Mesclun
- 50 g (2 oz.) mesclun
- 3 tbsp. olive oil
- 1/2 tsp. sherry vinegar
- Salt and freshly-ground pepper
Equipment
- 1 terrine, 27 cm x 7 cm x 6 cm (approx. 10 x 3 x 2")
Preparation (the day before)
Cod
Cut the cod fillet lengthwise into 2 strips, 3 cm (1 1/4") in diameter.
Gently place into cold court-bouillon.
Bring gently to a simmer for 2 minutes. Remove from the heat.
Poach for 10 minutes off the heat. Drain gently. Let cool.
Wrap the cod carefully in the blanched spinach leaves.
Zucchini slices
Cut the zucchini with a mandolin into long strips, 2 mm (1/16") thick.
Blanch in salted water. Refresh.
Ratatouille
Peel and halve the peppers.
Remove the seeds and white parts (keep one whole for the coulis).
Cut into 5 mm (1/4") dice.
Cook in a baking dish at 150° C (300° F) for 30 minutes with a sprig of thyme and a clove of garlic.
Sweat the chopped shallot and chopped garlic with the diced tomato in olive oil for 4-5 minutes. Add the zucchini, eggplant and peppers cooked in the oven.
Season with salt, freshly-ground pepper and chopped garlic.
Cook for 10 minutes. Let cool.
Assembly
Line the terrine with plastic wrap.
Line with slices of blanched zucchini.
Add a 1 cm (3/8") layer of cold ratatouille and place the cod fillet on top.
Add the remaining ratatouille. Fold the zucchini slices over top.
Close up with plastic wrap. Let rest overnight with a small weight on top.
Garnish
Eggplant caviar
Cut the eggplants lengthwise once you have removed the two ends.
Place into a dish. Drizzle with olive oil.
Cover with a sheet of aluminum foil.
Place in a 180° C (350° F) oven for 35-40 minutes. Remove the eggplant from the oven.
Using a fork, mash with a little olive oil. Season with salt and pepper.
Sweet pepper coulis
In a blender, liquefy the red pepper with the olive oil.
Add the salt, freshly-ground pepper, Tabasco and juice of half a lemon to make the coulis.
If necessary, thin with a little broth. Strain through a China cap.
Mesclun
Wash the mesclun and dress with an olive oil-based vinaigrette.
Presentation
Onto each plate, place a slice of terrine, a spoonful of eggplant caviar and some mesclun.
Drizzle a little sweet pepper coulis and some basil oil on each plate.

***** CODE PUB = PUB_F *****
***** CODE PUB = PUB_G *****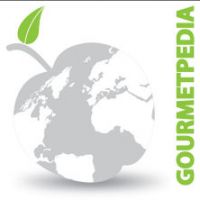 ©Copyright MSCOMM 1996 – 2019. Michèle Serre, Éditeur
Recipes

Products

Entertaining

Chefs

Hints & Tips

Glossaries