The mineral-rich French gray sea salt harvested in the coastal area of Guérande, Brittany, France is cherished for its exceptional quality and fine taste.
The unrefined Guérande gray sea salt is light gray in color because of the fine clay from the salt flats.
It is certified by "Nature et Progres" (European mark of exceptional quality and purity) to be 100% *natural (*no additives), harvested and processed by organic methods, unrefined, and free of pesticides, herbicides, and chemicals. With nothing added and nothing removed, just the way nature intended.
Simply add a pinch of coarse salt, or use it to make vegetable soup a flavorful delight.
Add flavor to pasta water, or follow Paul Bocuse in giving a unique twist to entrecôte bordelaise. When preparing a court-bouillon simply add a pinch of coarse Guérande sea salt.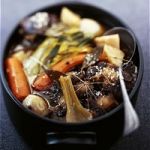 Prepare a pot-au-feu and serve it accompanied by fleur de sel and old-fashioned grainy mustard, a simple delight!
From the first course, a beet salad with tarragon perhaps, to dessert, a compote of apple wedges cooked in 8 minutes, or mini apple puddings. It's also wonderful on simple fresh chevre. And why not, as chef Alain Passard does, simply sprinkle some in a soft-boiled egg with a little chive and a touch of curry?
Healthful but delicious - cooking in salt crust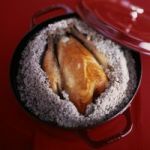 This is a very simple cooking method because everything (or almost everything) takes place in the oven. It offers the benefits of braising and steaming. Food prepared in its own wrapper of Guerande sea salt is moist and tender. It retains all its flavor and that of the condiments that accompany it: thyme flower, rosemary, fennel... as well as the more subtle trace elements from the salt.
This is a healthful and calorie-wise cooking method as the salt absorbs the fat from the food. It's particularly good for roast beef, leg of lamb, chicken, sea bass, sea bream or turbot. Or, more unusually, for a Reblochon cheese, sardines or simply raw beets or potatoes!
Allow 2-3 kg of Guérande coarse salt per piece (for a whole chicken, for instance). Cover everything well, cook between 40 and 60 minutes and let rest for 10 minutes after taking the food out of the oven before breaking the crust.
You could also add a beaten egg white to the salt.
You can also prepare a salt dough:
1 kg (2 1/4 lb.) flour
500 g (18 oz.) coarse gray Guérande salt
400 ml (1 1/2 cups) water
2 beaten egg whites
Combine all the ingredients, knead and roll out to a 1 cm thickness (3/8")
Completely surround the food to be cooked. Meat and fish should be well dried first so that no juice touches the salt; be sure not to scale fish.
A spectacular effect is guaranteed when you serve the crystal dome from which delicious aromas emanate. The gastronomic effect is also guaranteed, with food salted just right, with no fat, and having conserved all its authentic flavors.
Michel Roth roasts a piece of cod or salmon "à l'unilatérale" (one side only) on a bed of coarse salt flavored with aromatics.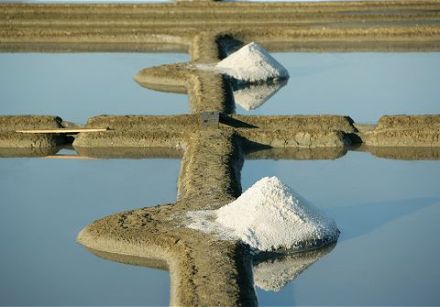 These salt crystals are formed on the bottom of the salt pond. Using a large rake-like tool, the salt gatherer detaches the crystals which he hauls out of the water and piles into a pyramid shape to dry. Each salt pond section can produce approximately 50 kg per day.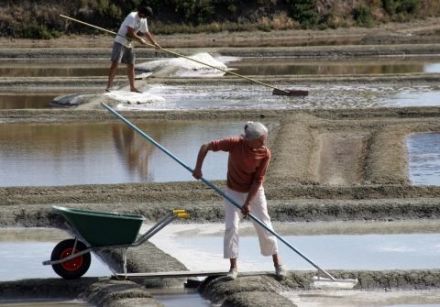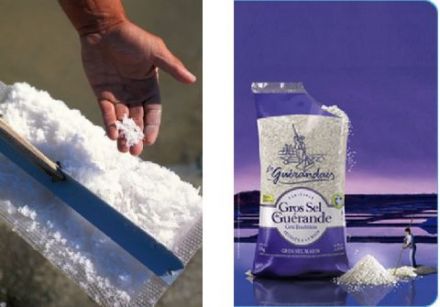 At a time when overconsumption of hidden salts in processed foods and their harmful effects to our cardiovascular system are a concern to health professionals, we should remember that on average we need only 4-6 grams of salt per day - a shake of a salt shaker provides only 1/10 gram of salt and a coffeespoon only 2 grams - excellent reasons to manage your own salt intake with good Guérande sea salt.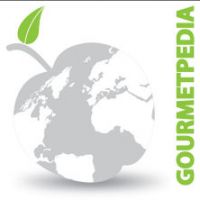 ©Copyright MSCOMM 1996 – 2022. Michèle Serre, Éditeur
Recipes

Products

Entertaining

Chefs

Hints & Tips

Glossaries