Flavors of Côte-du-Sud (Bas Saint-Laurent / Chaudière-Appalachians)
Isle-aux-Grues (French for "island of cranes") is an island located on the Saint Lawrence River, measuring about 7 kilometres long and 2 kilometres wide, well renowned for this excellent cheeses - Le Mi-Carême, Le Riopelle and Tomme de Grosse-île.
Under its brand new signature, Fromagerie de l'Isle launches this fall a new collection of five (5) fine high-end cheeses in addition to La Bête-À-Séguin, a new cheese with the image of Marc Séguin, a natural association with the Fromagerie de l'Isle and this renowned artist.
Here are some of the new ones :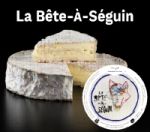 Tasty and bold, la Bête-À-Séguin (Séguin-the-beast) borrows the artist's name and personality: daring, without compromise, 100% authentic.
Its soft paste offers buttery and animal aromas. Its white bloomy rind develops reddish tones with time, giving it a very unique look.
To learn more, click here.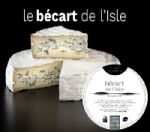 Bécart de l'Isle is a soft blue cheese with a white bloomy rind showing brownish veining. Its main notes are woodsy and mushroomy.
The name Bécart evokes the nobility of Isle-aux-Grues at the end of the XXVII century. Lord Pierre Bécart was given Isle-aux-Oyes and half of Isle-aux-Grues.
To learn more, click here.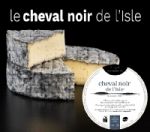 Mild, with lactic notes, this semi-firm paste cheese is covered with a thin coat of vegetable ash and a bloomy rind.
The name Cheval noir (black horse) comes from the legend in which a black horse is seen galloping across the island only to disappear in the cold waters of the St. Lawrence River.
To know more, click here.
Le Curé Quertier de l'Isle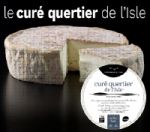 Supple and tasty, this semi-soft cheese offers beautiful contrasts in texture and in colour. The slightly sandy rind shows warm orangey hues covering a melt-in-your-mouth perfectly salted yellow paste with delicious notes of butter and roasted almond.
Curé (Father) Quertier comes from the name of the first priest to reside on the island of Isle-aux-Grues. He lived in the sacristy of the church as they had no presbytery.
To learn more, click here.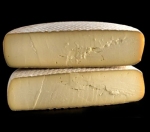 This firm cheese is an homage to the island agriculture of Isle-aux-Grues. The slightly milky scent with sulfur notes immediately brings to mind the hay of this wild wet plain connecting Isle-aux-Grues to Ile-aux-Oyes, known as the Haut Marais or high marsh. Never has a firm cheese had such a good buttery flavor. Its texture is supple and soft with a long-lasting flavor.
To learn more, click here.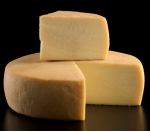 This firm, washed rind cheese has a smooth, dark straw yellow rind with a firm texture. It is washed with L'Étoffe du Pays, a local "keeping" beer which gives it a pleasing, mildly herbaceous and yeasty flavor. Even non-beer drinkers will be tempted by its unique mild taste.
To learn more, click here.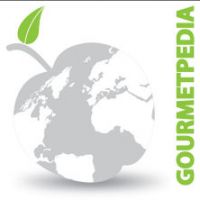 ©Copyright MSCOMM 1996 – 2020. Michèle Serre, Éditeur
Recipes

Products

Entertaining

Chefs

Hints & Tips

Glossaries